Mario journeys across the country to celebrate the launch of Super Mario Odyssey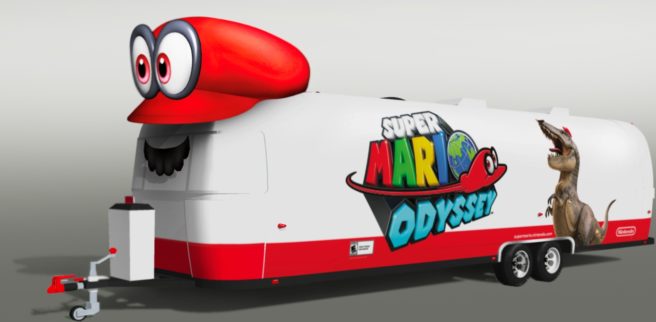 As a way of promoting Super Mario Odyssey, Nintendo is planning a cross-country tour across the United States. Those who stop by one of the five locations will have the chance to meet the Mario costumed character, take photos with him and his trailer, and get hands-on time with the game.
While Nintendo has five specific locations lined up, Mario will also be making some stops to sightsee and take photos. Each of these special stops are inspired by Kingdoms in Super Mario Odyssey. Nintendo will be sharing photos on its social media accounts, such as when Mario visits big cities as a reference to the Metro Kingdom.
Below are the main locations Nintendo is planning for its tour:
Los Angeles Kingdom Universal CityWalk
100 Universal City Plaza
Universal City, CA 91608
Located at 5 Towers at Universal CityWalk.
Oct. 10
3:30-6 p.m.
Dallas Kingdom State Fair of Texas
3921 Martin Luther King Jr. Blvd.
Dallas, TX 75210
Located in Chevy Park Plaza (enter at gate 11), across from the Chevy Ride & Drive.
Oct. 18
10 a.m.-9 p.m.
Chicago Kingdom Navy Pier
600 E. Grand Ave.
Chicago, IL 60611
Located in Polk Bros Park, Navy Pier's front gateway, between Illinois and Grand avenues.
Oct. 21
12-6 p.m.
Philadelphia Kingdom Philadelphia Museum of Art
2600 Benjamin Franklin Parkway
Philadelphia, PA 19130
Located below the "Rocky Steps" of the Philadelphia Museum of Art.
Oct. 24
12-6 p.m.
New York Kingdom Rockefeller Center
10 Rockefeller Plaza
New York, NY 10020
Oct. 26
8-10 p.m.
Mario, Cappy and the game will be appearing at the five locations listed above on a first-come, first-served basis.
The final stop in New York might be the most special of all. Along with gameplay sampling and photos with Mario, Nintendo is planning "some additional surprises and guests." Also, the first 200 people in line for the New York event will gain access to the event and be the first to purchase the game at midnight.
Source: Nintendo PR
Leave a Reply