Mario Kart Live: Home Circuit devs initially thought that including drift would be "impossible"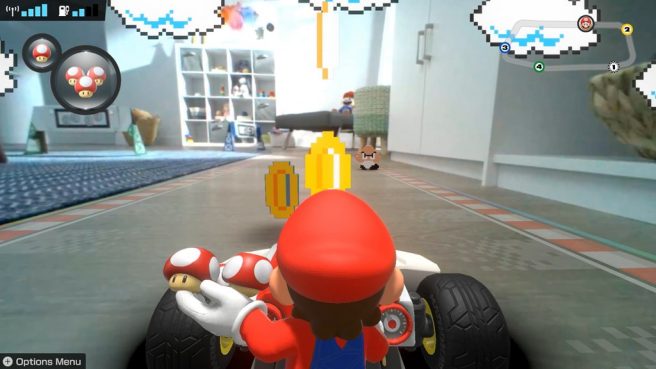 The ability to drift is a staple of the Mario Kart series. However, for Mario Kart Live: Home Circuit, the feature wasn't always a sure thing to be included.
In a recent blog post, Velan Studios Karthik Bala co-founder noted how adding drift initially seemed "impossible". But the functionality eventually found its way in following a "late-project weekend experiment at Velan, with some suggestions from the Nintendo team".
Bala wrote about including drift:
Together with Nintendo, we focused on nailing the feel of Mario Kart across speed classes ranging from 50cc to 200cc, while maintaining familiar Mario Kart controls and features – including drift! The idea of adding drift to the game seemed impossible but we knew that it is such a critical aspect of Mario Kart, especially for expert players. A late-project weekend experiment at Velan, with some suggestions from the Nintendo team, suddenly added drift, and it brought that important layer of skilled driving that players expect of Mario Kart. It was a journey of learning to overcome our own doubts that led Mario Kart Live Home Circuit to become the product that it is. From drift, to steering assist for younger or less experienced players, to Bullet Bill self-driving, we never stopped striving to deliver as close to a true classic Mario Kart experience as possible.
Bala also shared some other interesting information from the development of Mario Kart Live: Home Circuit:
We also included Time Trial racing. In our office, we used to run Friday competitions to compete for our coveted golden banana trophy. These usually consisted of creating a custom course and giving each person a crack at posting the best time. This got us thinking about the value of party play and passing the Nintendo Switch around the room. We decided to add name entry and a leaderboard at the end of time trial races to give players the tools to recreate this experience. While racing against your friends with multiple karts is a great way to play, we think people will be surprised with how incredibly fun it is to compete for the best time in the room.

During development, a breakthrough on the project was course visualization. In early playtesting, it was easy for players to get lost or go the wrong way. The goal was to have the course visible wherever you are, and on a flat surface, it works great. However, if players want to create courses with lots of real-world objects to define the course, they can simply turn off the course visualization.
Leave a Reply