Mario Kart Tour 2nd Anniversary Tour announced
Posted on September 17, 2021 by Ervin in Mobile, News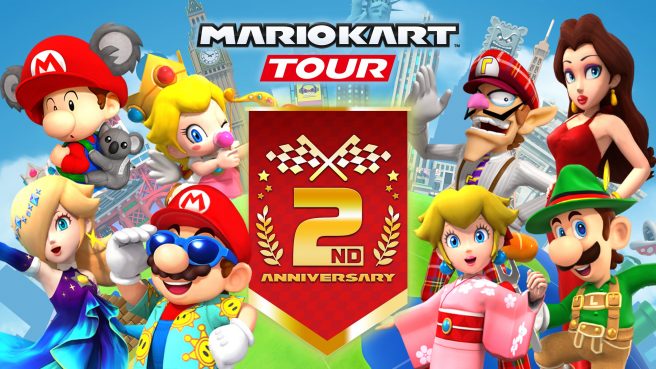 As the Sydney Tour draws to a close in Mario Kart Tour, the game's official Twitter account has teased the next big event heading to the racing title with a new promotional image, which we have added above.
Currently, Mario Kart Tour is hosting the second part of its Sydney Tour, which is expected to end on September 22. When that happens, the next tour will be rolled out, the 2nd Anniversary Tour. Leading up to these events, Nintendo usually publishes a trailer, which we will share along with any other details as they become available.
Few details have been revealed outside of the above image showcasing several returning Racers, but Mario Kart Tour's official Twitter account notes that the Tour will feature 8 cities to race through.
Mario Kart Tour is available on both iOS and Android, and released for the platforms in 2019. Since then, the game has hosted a constant stream of Tours for players to participate in, releasing new Racers and Karts frequently. The current Tour is the Sydney Tour, featuring content based on Australia. If you're looking to catch up on what has been added since the game's release, you can find earlier coverage of trailers, updates, and Tour details here.
Leave a Reply