Mario Kart Tour – Mario vs. Luigi tour coming November 17, trailers and Twitter contest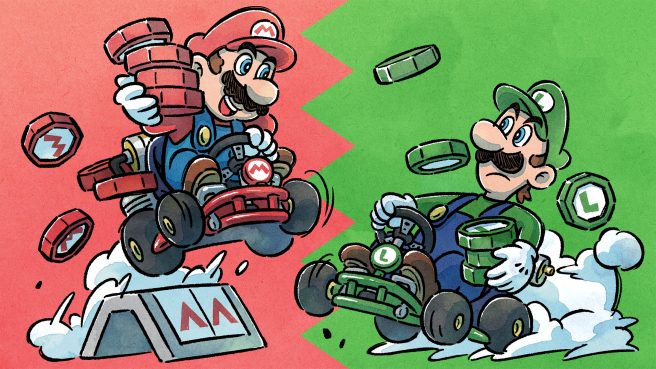 Mario Kart Tour is launching a new tour which has Mario dueling off against Luigi. In this tour, players can pick a team and use all the characters on either team to race and collect tokens. The team with the most tokens will win the tour and there will be special prizes for winning.
Currently, on the Mario Kart Tour Twitter page, there is a retweet campaign for this tour happening now that will reward players with coins equal to the total number of retweets (for a maximum of 10,000 coins). This will last until November 15, 2020 and the Mario vs. Luigi tour will start on November 17, 2020 at 10:00pm PT.
Trailers for the tour, showcasing each teams' members, are included below, as well as the tweets for the retweet campaign.



A retweet campaign has begun for the #MarioKartTour Mario vs. Luigi Tour! Retweet this video if you're for #TeamMario. Players will get coins equal to the total number of retweets! (Total of English and Japanese tweets for both teams. Max coins: 10,000. Until Nov. 15.) pic.twitter.com/7AXqvXKMhq

— Mario Kart Tour (@mariokarttourEN) November 13, 2020
A retweet campaign has begun for the #MarioKartTour Mario vs. Luigi Tour! Retweet this video if you're for #TeamLuigi. Players will get coins equal to the total number of retweets! (Total of English and Japanese tweets for both teams. Max coins: 10,000. Until Nov. 15.) pic.twitter.com/Gfb6c6iKHn

— Mario Kart Tour (@mariokarttourEN) November 13, 2020
Leave a Reply