Mario Party Superstars all mini games, boards, and playable characters list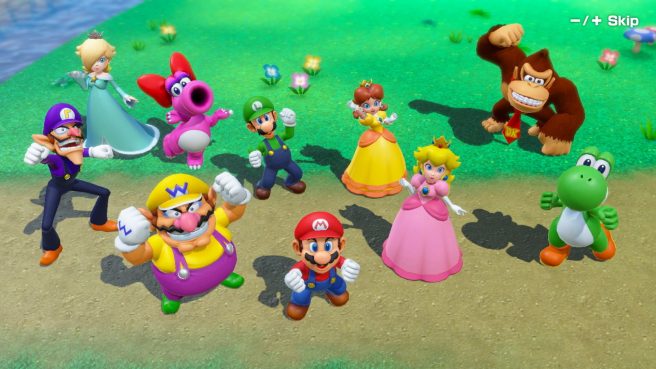 If you've been wondering about the mini games, boards, and characters in Mario Party Superstars, we've put together a handy list of the entire set. A lot of has been revealed over the past few weeks, providing us with all of the latest information about the game.
Here's the full rundown:
Mario Party Superstars all mini games
Mario Party
Mushroom Mix-Up
Cast Aways
Hammer Drop
Face Lift
Piranha's Pursuit
Bobsled Run
Tug o' War
Handcar Havoc
Tipsy Tourney
Shy Guy Says
Crazy Cutter
Bombs Away
Mario Party 2
Look Away
Quicksand Cache
Sneak 'n' Snore
Roll Call
Bowser's Big Blast
Cake Factory
Speed Hockey
Slot Car Derby
Mecha-Marathon
Balloon Burst
Shell Shocked
Hot Rope Jump
Bumper Balls
Honeycomb Havoc
Bumper Balloon Cars
Sky Pilots
Dizzy Dancing
Archer-ival
Dungeon Dash
Mario Party 3
Rockin' Raceway
River Raiders
Storm Chasers
Puddle Paddle
Tidal Toss
Parasol Plummet
Etch 'n' Catch
Messy Memory
Tick Tock Hop
Boulder Ball
Picking Panic
Vine with Me
Spotlight Swim
Ice Rink Risk
Hide and Sneak
Mario's Puzzle Party
Chip Shot Challenge
Cheep Cheep Chase
Coconut Conk
Bounce 'n' Trounce
Motor Rooter
Toadstool Titan
Eatsa Pizza
Snowball Summit
Mario Party 4
Money Belts
Paths of Peril
GOOOOOOOAL!!
Trace Race
Beach Volley Folly
Booksquirm
Dungeon Duos
Revers-a-Bomb
Mario Party 5
Coney Island
Night Light Fright
Bill Blasters
Ice Hockey
Squared Away
Later Skater
Dinger Derby
Pushy Penguins
Leaf Leap
Tube It or Lose It
Mario Part 6
Burnstile
Rocky Road
Mass Meteor
Dark 'n Crispy
Trap Ease Artist
Cashapult
Money Belt
Block Star
Pit Boss
What Goes Up…
Catch You Letter
Snow Whirled
Mario Party 7
The Final Countdown
Stick and Spin
Spin Doctor
Pogo-a-Go-Go
Monty's Revenge
Pokey Pummel
Mario Party 8
Winner or Dinner
Paint Misbehavin'
Mario Party 9
Goomba Spotting
Tackle Takedown
Manor of Escape
Shell Soccer
Mario Party 10
Shell Skewer Scurry
Flash Forward
Rapid River Race
All Mario Party Superstars Boards
Peach's Birthday Cake (from Mario Party)
Yoshi's Tropical Island (from Mario Party)
Space Land (from Mario Party 2)
Horror Land (from Mario Party 2)
Woody Woods (from Mario Party 3)
All Mario Party Superstars Characters
Birdo
Daisy
Donkey Kong
Luigi
Mario
Peach
Rosalina
Waluigi
Wario
Yoshi
Mario Party Superstars launches for Switch on October 29.
Leave a Reply