Mario & Sonic at the Rio 2016 Olympic Games: Characters, Mii functionality and download play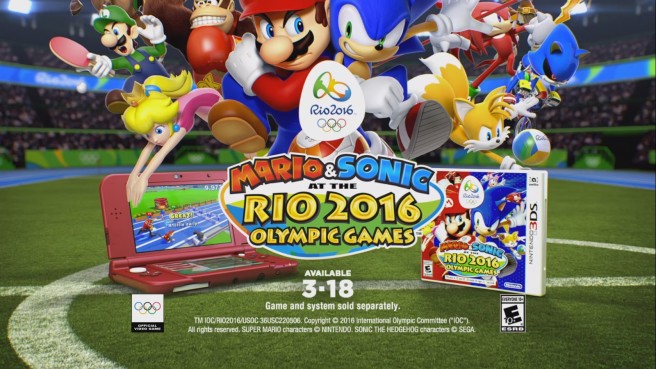 Nintendo of Europe just sent out a press release for the 3DS version of Mario & Sonic at the Rio 2016 Olympic Games, which will be released in Europe on April 8th. The press release gives an overview of the game's features, with some new info mixed in as well.
You'll be able to compete in 14 Olympic disciplines and in 14 "Plus Events". The total number of playable characters is 40, which means both Mario and Sonic fans have got plenty of their favorites to choose from.
A new addition is the "Road to Rio" mode, in which you play as your own Mii and join either Team Mario or Team Sonic in an effort to make it to the 2016 Olympic Games in Rio de Janeiro. Completing this mode rewards you with a Mario or Sonic outfit, respectively. In addition to RPG elements such as special gear which boosts your character's abilities, you can also use the Mario and Sonic amiibo to give yourself a boost when you're wearing the aforementioned Mario or Sonic outfit.
The game is also capable of Download Play functionality, meaning you can play multiplayer matches with up to four people with just one copy of the game. Finally, the game's Pocket Marathon feature will reward you just for walking around with your 3DS – the handheld's built-in pedometer will count the steps you take, which will unlock rewards that boost your Mii's abilities.
Source: Nintendo PR
Leave a Reply