Mayhem Brawler announces "2.0 Air Supremacy" update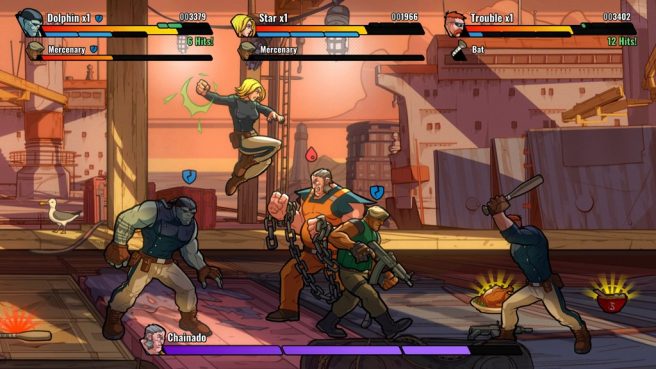 A new update will soon be made available for Mayhem Brawler, known as "2.0 Air Supremacy". It'll be highlighted by new attacks to execute with overhauled combat mechanics, increasing combo potential significantly.
Below is some additional information as to what's in store for the update:
AIR COMBO! MARVELOUS!

The most prominent of these new additions are "Air Combos" and "Air Special Attacks." Characters will be able to perform unique airborne actions. These features will increase the players' combo potential by performing stylish aerial attacks and finish off opponents with a devastating air special attack that burns a meter of the power bar.

IT'S JUGGLE TIME

It is time to punish those who threaten the officers of Stronghold with Payback! While blocking an incoming strike, pressing the attack button at the right time will execute a new counterattack and launch enemies in the air. Counters will open the door for juggling opponents or be the start of relentless air combos. Sweet revenge!

NO REST FOR THE WEARY

With new attacks to perform on the arsenal, there is only one thing left for combos to get even mightier; The OTG (Off the Ground) attacks. These actions will allow heroes to strike enemies even when they are knocked down and launch them in the air. This system will limit combo potential no more, making players the limit itself!

Turn the tides of the battle with counterattacks, launch enemies back in the air with off the ground attacks, and become an unstoppable force of nature with relentless combos to blow away your foes!
A trailer showing the new "2.0 Air Supremacy" update for Mayhem Brawler can be found below.
All players can access the "2.0 Air Supremacy" update for Mayhem Brawler starting on November 24. As for the game itself, that's up on the eShop right now.
Leave a Reply