McPixel 3 gets free DLC update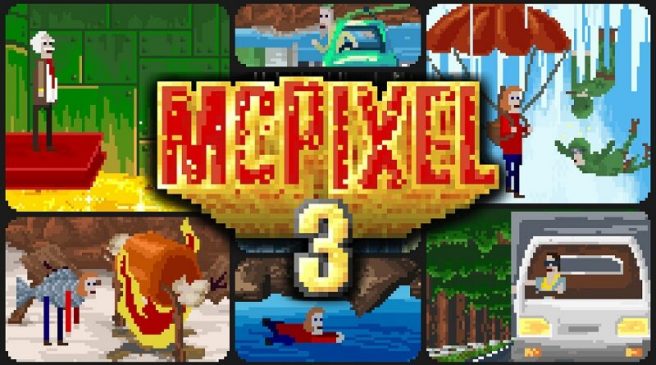 A free DLC update has been released for McPixel 3, bringing a number of brand new level packs, as well as the original six levels from McPixel remastered in McPixel 3's style. A language selector has also been included. Full details can be found below:

McPixel visits grandma!
In this brand-new update, McPixel gets a letter from grandma telling him to come for a visit! Join McPixel on his visit to grandma's place and make sure she actually survives the unfortunate encounters McPixel put her through in a new never-before seen level pack! In addition to that two new minigames and a brand new Steve level wait for you in this level pack!
When you launch the game, look for a mailbox in McBurg near the fountain to access brand new McPixel 3 levels in two Free DLC packs! If the mailbox is not there yet, you need to progress a bit! To unlock the mailbox you need to at least play every round in first three chapters, or have the game beaten at least once (even if you erased the progress!)

The classic remastered!
Additionally, you will be able to play the original six levels, first ever to be made for McPixel in 2011 remastered to match McPixel 3 style and graphics! These 6 levels were the first ever to be created during a 48-hour game jam! This is where McPixel all started!
Language selector!

Additionally, due to popular demand a language selection screen will now always appear first time you launch the game, instead of trying to autodetect language so that you can pick whatever language you prefer to play in! Note that if you haven't manually picked the language the language selector will pop up for you next time you launch the game either way!
McPixel 3 is available digitally via Switch eShop.
Leave a Reply