Meg's Monster release date set for March, new trailer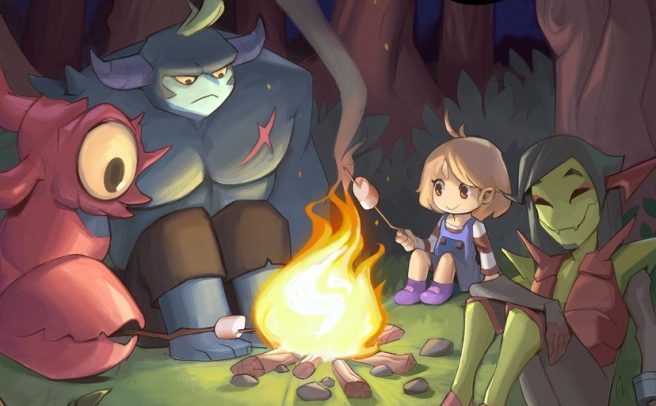 Odencat has provided a final release date for Meg's Monster, its upcoming adventure RPG. Switch owners can get their hands on the game starting March 2, 2023.
Meg's Monster was confirmed for Switch last May. Originally, it was planned for a Fall 2022 launch. The game was quietly delayed, but it's unclear why the extra time was needed.
We have a bunch of additional information about the game in the following overview:
Meg's Monster chronicles the story of two very unlikely friends, encased in a unique, raw, scripted, turn-based battle system in which the player controls a nigh-invincible monster who must defeat enemies while also protecting a fragile human child with strange apocalyptic powers – because if she cries, the whole world dies.

Meg, the human child, (whose tears just so happen to hold the power to bring forth the apocalypse) winds up in a world full of mutants and monsters who eat humans for breakfast. It's up to a hulking brute named Roy and his pal Golan to help her make it back home. As they scour the Underworld for clues regarding her mother's whereabouts, the trio will slowly warm up to one another, while also uncovering some truly astonishing secrets about their world and themselves.

Meg's Monster's retro style and simplicity in presentation quickly unfolds into a challenging, amusing and must-play RPG. The narrative quickly pulls the player into the story whilst at the same time giving a real empathy for the main and central characters. Over 50,000 words of dialogue give a rich and compelling narrative to the many battles that will ensue as you venture forth. Each battle comes with its own unique mechanics and minigames to master as you duke it out while protecting and keeping Meg happy with her favourite toys. Yes, keeping Meg calm and happy is just one underlying factor, and a nice toy will achieve this, but it's not that simple!

Roy, the monster, has 99999 HP and is almost invincible (as in almost every enemy can't kill him; think Saitama from One Punch Man). However, when he takes damage, the other protagonist, Meg, takes emotional and mental damage since she is a child and can't bear to see Roy getting hurt. If her mental gauge reaches zero, she'll cry and the world ends. This means that players will need to balance Meg's mood, as well as defeating enemies that want to destroy them. Roy will need to use toys to keep Meg happy and prevent her from crying.

Acclaimed Monster Hunter, Hi-Fi Rush, and Atelier Ryza 2 composer Reo Uratani, and a main theme featuring ethereal, otherworldly lyrics written and performed by Laura Shigihara of Plants vs Zombies™, To the Moon, Rakuen, and Deltarune fame, Meg's Monster soundtrack has much to offer.
A new trailer celebrating the release date news for Meg's Monster below.
Leave a Reply