Miitomo stats: 4 million monthly active users, $280,000 per week, more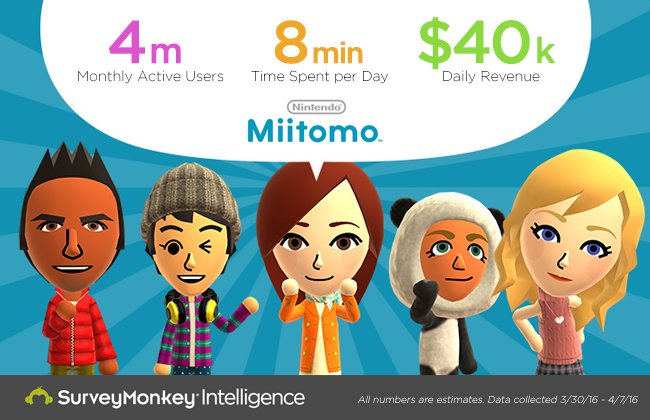 SurveyMonkey has an early analysis of Miitomo. Thus far, the site says the app has been "crushing it" and is "a hit".
Miitomo saw 2.6 million downloads last week, according to SurveyMonkey's data. It received an average of 370,000 daily downloads. About two-thirds of that amount were on iOS with the remaining third on Android.
SurveyMonkey's report goes on to say that "Miitomo currently has 4 million monthly active users" as well as "about 1 million daily active users." Users tend to check in for two to three sessions each day for a total of 7-8 minutes.
Finally, Survey Monkey shares the following regarding Miitomo's revenue:
Making it rain – $280,000 per week
Monetization has also increased steadily and we estimate that the game is now making $40,000 combined per day across iOS and Android. Roughly 80% of the revenue is from iOS with Android only contributing 20%.

On a per-user basis, we estimate the app has an ARPDAU (Average Revenue Per Daily Active User) of 3-4 cents. While low compared to mid-core games like Supercell's Clash Royale, this is actually a healthy number for a more casual game like Miitomo, especially early on.
Leave a Reply