Music-based action-adventure game No Straight Roads announced for Switch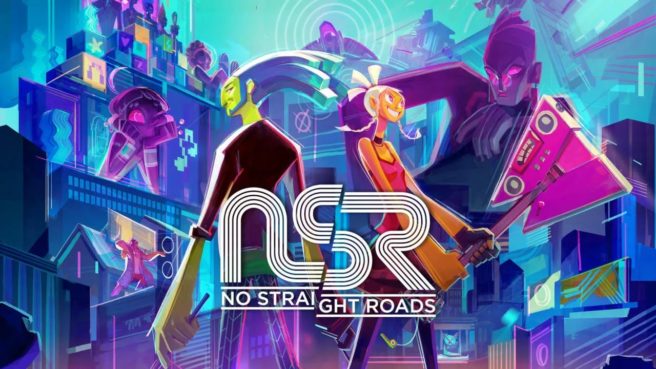 Publisher Sold Out and developer Metronomik announced today that the music-based action-adventure game No Straight Roads will be released on Switch. NeoBards, a studio that worked on Devil May Cry Triple Pack, Onimusha: Warlords and Resident Evil Resistance, is co-developing the Switch version.
For the Switch version of No Straight Roads, some special features will be included that take advantage of the console's functionality. These include:
– Exclusive Assist Mode – Partner up with an additional local player to take control of the Elliegator, a secret alligator assistant who can help players in battle by picking up items, transforming props and calling in useful bonuses.
– 3-Player Co-Op – Played in conjunction with the game's co-op mode, Assist Mode lets up to three local players experience No Straight Roads' music-based action together, only on Nintendo Switch.
– Touchscreen Support – Use the Nintendo Switch system's touchscreen to transform props and pick up items.
– Single Nintendo Switch Joy-Con Controller Play – Play through the entire game using a single Joy-Con, or pass the second Joy-Con to a friend to play in couch co-op.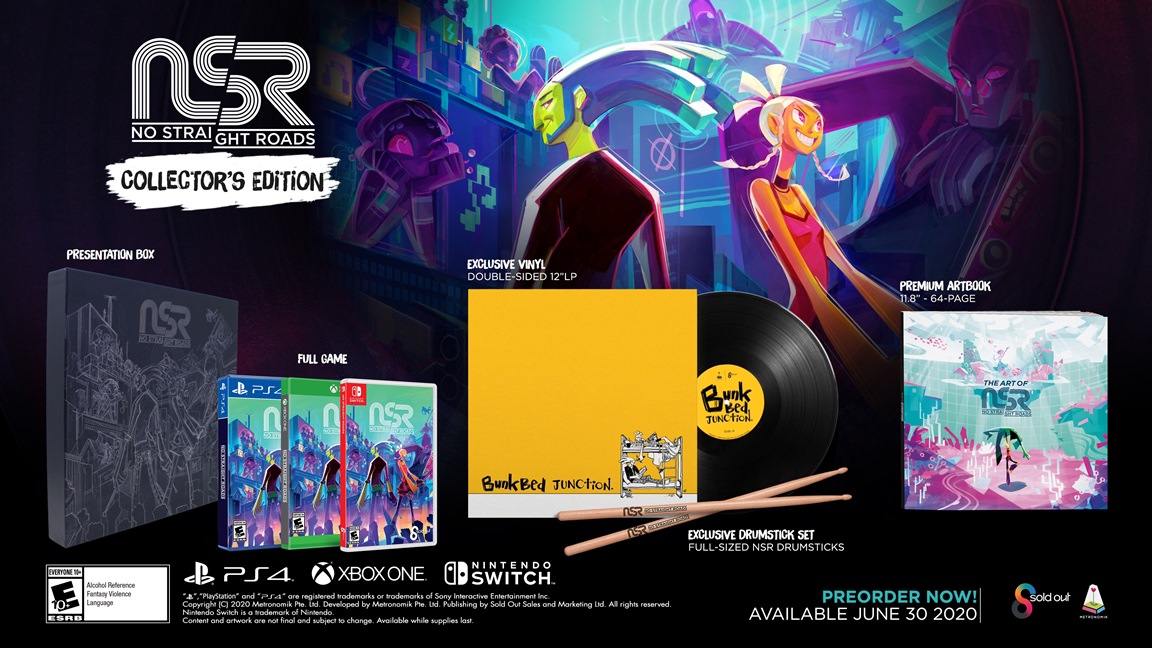 Also announced today is the No Straight Roads Collector's Edition, which features an exclusive double-sided vinyl LP with tracks from the game's official soundtrack, a 64-page 'The Art of NSR' art book, official NSR drumsticks, and a presentation box.
Here's a bunch of information about No Straight Roads as well as a trailer:
Take back Vinyl City – with rock! Embark on a music-based action-adventure as indie rock band members Mayday & Zuke and lead a musical revolution against EDM empire No Straight Roads. After being unfairly rejected in their audition to join No Straight Roads, Mayday & Zuke uncover the evil intentions behind the NSR empire. It's now down to them to save their city from corruption. Enjoy fast & frenetic combat with a musical twist as these two aspiring rock artists fight back with the power of music!

Key Features:
– A unique music-based action-adventure game that puts music & sound at the heart of the gameplay.
– Music is power! Fight an evil empire & lead the musical revolution to take back control of Vinyl City.
– Two playable characters, Mayday & Zuke, each with their own music-based weapons and attacks.
– An action-adventure with a musical twist. Players can attack, jump and move freely while enemies attack to the beat of the music.
– Change the world – with music! Harness the power of music to transform props into weapons and shift between rock & EDM in a seamless and dynamic manner.
– Experience 8 extraordinary levels inspired by different genres of music.
– Defeat giant, memorable bosses with unique personalities.
– An energetic soundtrack filled with awesome music.
– Upgrade your skill tree to improve your abilities & defeat NSR.
No Straight Roads launches for Switch on June 30. It will feature full voice localization in English, Spanish, French, and Japanese. Text-only localization will be available for English, French, Italian, German, Spanish, Brazilian Portugese, Polish, Russian, Japanese, Korean, Chinese Simplified, and Chinese Traditional.
Source: Sold Out PR
Leave a Reply