Mystery adventure game Crowns and Pawns: Kingdom of Deceit hitting Switch this month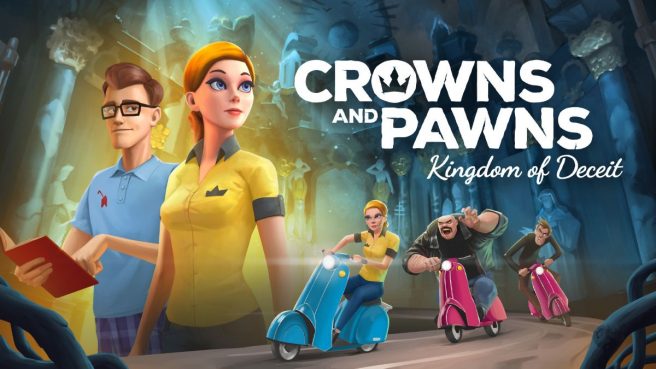 Today, publisher Thunderful and developer Tag of Joy announced that Crowns and Pawns: Kingdom of Deceit is slated for Switch. The mystery adventure game is set for September 28, 2023.
Crowns and Pawns: Kingdom of Deceit is a point-and-click adventure experience. For more information, check out the following overview:
Headed up by the art director from Broken Sword 2.5 and featuring a talented voice cast that have appeared in the likes of The Monkey Island series, Day of the Tentacle, Horizon Forbidden West, The Wolf Among Us and more, Crowns and Pawns: Kingdom of Deceit takes you on a trip across beautifully rendered locations in Eastern Europe imbued with romanticism and conspiratorial intrigue. What begins as a personal story about Milda traveling to the home of her deceased Lithuanian grandfather after receiving a mysterious letter referencing a family secret, soon unfurls into a rich web of enigmatic danger that draws on the rich and underexplored history of the region, leading her to investigate a lost relic, Lithuania's most legendary royal and the clandestine machinations of the KGB during the Soviet era.

From enigmatic anonymous messages, to logic-testing conundrums, to classic item puzzles, Crowns and Pawns: Kingdom of Deceit is packed with a variety of satisfying mysteries and puzzles for you to solve. For some of them you might even have to change Milda's outfit and hairstyle. Of course, you can also just tweak her look for fun! As you explore the game's rich hand-painted scenes, you'll meet a host of fun and eccentric characters, all with fully voiced dialogue, further building a rich world that's a pleasure to inhabit.

The role of Milda is played by Erin Yvette, who has a long list of impressive credits for roles in Horizon Forbidden West, God of War Ragnarok, Genshin Impact, The Wolf Among Us, Oxenfree, The Walking Dead and Batman: The Telltale Series. She is jointed by Matthew Curtis, who has appeared in Marvel Snap, Unforeseen Incidents and Smite, as well as adventure game veteran Denny Delk, who you might recognise as Murray in Return To Monkey Island, alongside his other roles in Day of the Tentacle, Sam and Max Hit The Road and a host of Star Wars titles.
Director Šarūnas Ledas said of today's news: "We are delighted to bring Crowns and Pawns: Kingdom of Deceit to Nintendo Switch. We think it's the perfect console platform for a game like this and we are really happy to be able to bring a game that's really resonated with adventure game lovers to a brand new audience.
A trailer for the game is attached below.
Switch Announcement Trailer
Leave a Reply