Mythic Ocean getting a physical release on Switch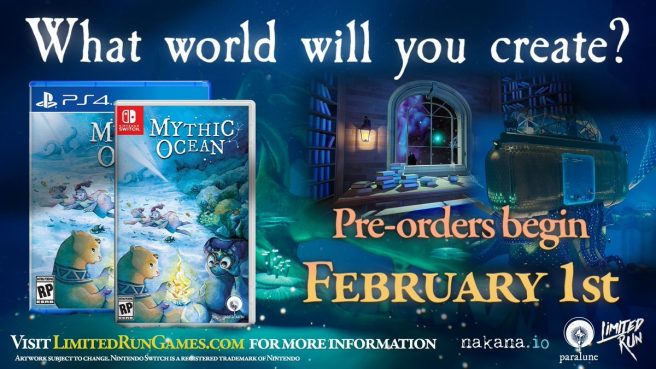 Limited Run Games has revealed plans for yet another physical game on Switch, this time for Mythic Ocean. Only a standard copy will be available – a collector's edition is not planned.
Mythic Ocean first appeared on Switch in July 2021. Thus far, it has only been available as a digital download.
You can find additional information about the game below.
Freely explore a vibrant ocean. Have relaxing, deep, and amusing conversations with six different gods and a cast of sea creatures.

The advice you give continuously alters your story and leads to thousands of possible endings, ranging between harmony and pandemonium.

Which god will rise above? What kind of universe will they create? Discover the outcomes of your choices.

Key Features

• Narrative Exploration – combines the dialog-focused gameplay of a Visual Novel with free-roaming exploration.
• Through deep conversations with gods, your choices shape the creation of a new world.
• Great replay value – lending different advice can lead to thousands of unique results.
• Diverse, peaceful underwater environments.
• Meet tons of goofy, charming creatures.
• No death, no combat, no failure.
• Both children and adults can relax, have fun and find their own food for thought.
• There's a breakdancing crab.
Pre-orders for the physical version of Mythic Ocean kick off on February 1 at 9 AM PT / 12 PM ET / 5 PM in the UK / 6 PM in Europe. You'll be able to secure a copy through Limited Run Games here.
Leave a Reply