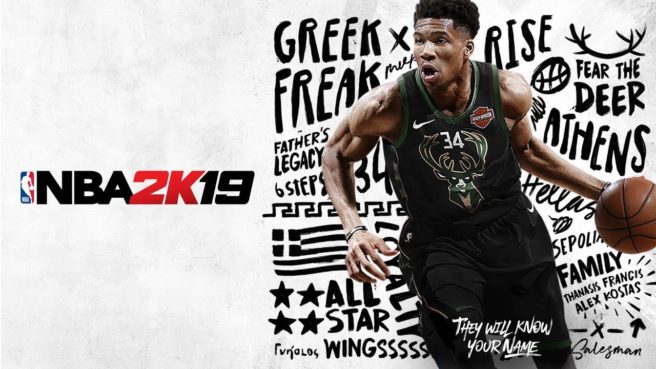 Game Informer managed to get some hands-on time with NBA 2K19, and has detailed a number of improvements being made to this year's title. Here's the full breakdown:
Takeover system
– New "Takeover" game system that celebrates the idea that any NBA player can take over a game at any time
– Like a more nuanced take on the "On Fire" system from NBA Jam
– Players of each archetype have unique ways to exert their dominance during a game
– Ex: playmakers take over by setting up teammates for easy buckets, rim protectors change the trajectory of a game by locking down the paint, etc.
– As the player exercises his will against the opponent using his specialties, he builds up a takeover meter
– Once activated, you will see an on fire badge underneath the player on the court
– This indicates the player has unlocked a new tier of special animations and badges that align with their archetype
– Playmakers like Rajon Rondo won't suddenly be raining down threes while on fire NBA Jam style, but instead may get Dimer and Ankle Breaker boosts
– Holding the left bumper button, you can check where all your players on the court are at in terms of activating their Takeover
– Multiple players on the same team can activate Takeovers at the same time, as well
– If your players struggle they can also develop cold streaks
– These diminish gradually over time, but you can try to accelerate coming out of their funk by calling a timeout
Reduced clipping
– In NBA 2K18, excessive clipping caused limbs, heads, and basketballs to morph through players' bodies
– Animations are cleaner this time around
– Visual Concepts is continuing to hone this in the lead-up to launch to minimize clipping as much as possible
Rebuilt stealing system
– Successful steal opportunities are now governed by a zone system that judges vulnerability
– Defenders who recognize prime stealing opportunities where the ball is exposed will be rewarded for their smart timing
– Dribblers can't just string together moves with no concern about the defender's reach anymore
– Reading those situations correctly and stealing at the right time will pop the ball out a lot easier
– But these aren't always clean wins with unobstructed paths to the hoop; building off the more unpredictable loose balls of NBA 2K18, sometimes both players will scramble for possession when it's knocked free
Returning skill to one-on-ones
– Last year's new motion system made it easier to blow by defenders with speed, but it went too far
– Even lockdown defenders could be taken right off the dribble with regularity
– This has been reworked in NBA 2K19 to make stick skills matter more than before and restore balance to the one-on-one interactions
– Defenders can't just rely on holding the left trigger to be in the ideal situation to contest a shot
– The automated contest system has been removed
– Defenders need to actively get a hand in the shooter's face by using the right analog stick if they want to affect the shot
– Dribblers have some new tools at their disposal
– Flicking the right stick activates signature walking size-ups
– Good ball handlers should find NBA 2K19 a lot more responsive and fluid in terms of branches and combos
Unique streetball moves
– Those playing in the park or blacktop have a lot more entertaining dribbling moves for taunting and embarrassing opponents in NBA 2K19
– New streetball players used to motion capture new park-specific handling moves like wrapping the ball around the defender's head and nutmegs
– These moves are only available in the street modes
Shot meter improvements
– Shot meter now included on all lay-ups
– Each lay-up animation requires different timing
– Shot meter from NBA 2K17 and 2K18
– You can choose a meter that goes by the players' hands, the players' feet, turn on both, or turn them off altogether
– Can customize the color of the shot meter
– Colors include team colors, white, magenta
– Shot feedback system improved
Stronger interior defense
– More difficult to get into the paint
– When moving into high traffic areas, the new stealing system gives bigs the awareness to take a swipe at exposed balls
– Visual Concepts also did work to make the contact in the paint more difficult to push through
Enhanced A.I.
– The new steal system demanded that they up situational awareness for A.I. players, so they are more mindful of when they need to protect the ball or look for a potential double team
– Once a team doubles, the A.I. is also more aware of cutting opportunities
– To combat players who tend to spam the same move over and over, the A.I. is better at identifying overreliances and understanding how they are being beaten, adjusting accordingly
– If you are constantly shooting threes out of the high pick and roll screen, they will start pressing outside 23 feet
– Work done to improve the transition game lane principles so players fill the lane appropriately and space into the corners for kick-out threes
You can read Game Informer's full article here. The site goes a bit deeper into the improvements, and has comments from a couple of the developers.
Leave a Reply