Necrobarista getting a physical release on Switch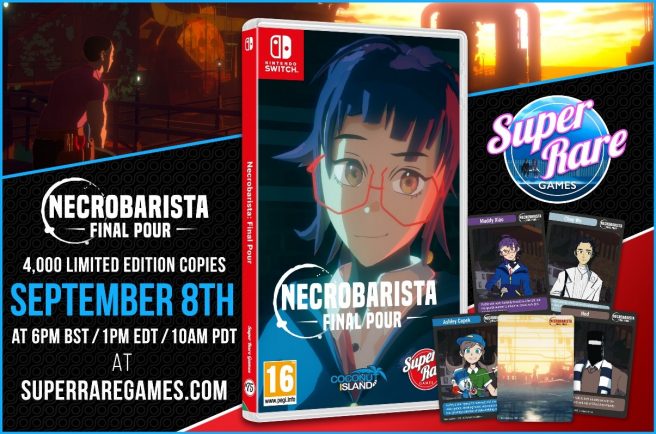 Super Rare Games has detailed its next physical release on Switch, with Necrobarista now getting the boxed treatment.
4,000 copies will be produced for the cinematic visual novel. Each copy comes with all the current content on its cart, with our release being the definitive Final Pour edition, a full-color manual, interior artwork, an exclusive sticker, and trading cards.
In this back-alley café in Melbourne, the dead are granted one last night to mingle with the living while enjoying a nice steaming hot cup of coffee. Inspired by film and anime alike, Necrobarista is a unique take on the visual novel medium. Follow a dynamic and diverse cast of characters as they navigate Melbourne's hipstery coffee culture, the questionable ethics of necromancy, and the process of letting go.

Key Features

– Highly stylized – Fully 3D cinematic presentation that draws from anime aesthetics.

– BAFTA-nominated composer – Soundtrack by Kevin Penkin, the composer for Florence, Made in Abyss, and Norn9.

– First-person adventure – Delve into the world of the Terminal and fantasy Melbourne through free-roaming first-person scenes.

– A colorful cast of characters – Featuring goon-sack robots, alchemical coffee, and Australian folk hero Ned Kelly.

– Multiple language support – Support for fourteen languages, including Korean, Arabic, and Japanese.
Pre-orders for the physical version of Necrobarista open on September 8 at 10 AM PT / 1 PM ET / 6 PM in the UK. Super Rare Games will be taking reservations here. The wait won't be long as Super Rare Games titles ship shortly after release.
Leave a Reply