New yokai, Naviwoof, and Yo-ki details for Yo-kai Watch 4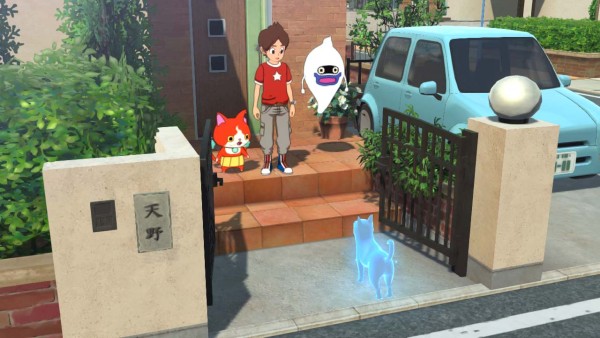 Developer Level-5 has shared some new details on Yo-kai Watch 4 that pertain to a few new yokai within the game, as well as the Naviwoof and Yo-ki.
Several new screenshots have been provided as well. Thanks to Gematsu for providing a fill translation below.
■ New Game Element: Naviwoof

Even if you get lost, a new element called Naviwoof will navigate you to your destination. A mysterious and ghostly dog suddenly appears before the player to serve as a guide. Its wagging tail, intimidating impression, and dog-like form are super cute.

■ New Battle Element: "Yo-ki"

"Yo-ki" is a new element that is essential in battle. Watchers can use attack or party recovery skills with the yo-ki asborbed from enemy yo-kai via the Yo-kai Watch.

Yo-ki Absorb

Absorbs "Yo-ki Power (YP)," which can be used to activate skills such as "Yo-ki Shot."

Yo-ki Shot

Fires a shot of yo-ki at the enemy, even if they are far away.

Energy Send

Send absorbed yo-ki to ally yo-kai to heal them.

Piercing Spiral

An attack that pierces multiple nearby enemies.

Various other skills are also available.

■ New Yo-kai

Here is a look at some of the new yo-kai appearing in Yo-kai Watch 4.

Gyuuki (Shin's World)

A brutal yo-kai said to be born from the revengeful spirits of a wild ox and a poisonous spider. It is said that deadly poison that comes out of its claws and horns gradually torments and devours its human prey…

Shirokuma (Keita's World)

A yo-kai that possesses human infants and causes demonic disobedience, one child after the next. If its "Shiroku-Mama" gets angry, it will cry. Even so, it loves its mama.

Uribou (Lightside) (Natsume's World)

The Lightside form of the boar king that is guardian of the mountains. Its utmost pleasure is running through the mountains and fields with the other animals, so it usually hides its true status.

Inosasaou (Shadowside) (Natsume's World)

The Shadowside form of the board king that is guardian of the mountains. It lives in the harshness of nature, and it is said that all animals bow down to its godliness.
Leave a Reply