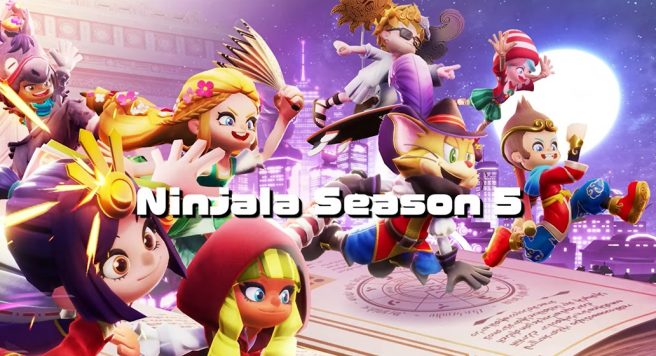 In a new video published today, GungHo outlined what it has in store for Ninjala. The game will be kicking off Season 5 later this month and it'll bring about some new content and features.
Here's the full rundown:
Season 5
– Starts following server maintenance scheduled for March 24
– "Fairy Tales" theme
– New costumes based on Little Red Riding Hood, Puss in Boots, Sun Wukong, Rapunzel, Pinocchio, Princess Kaguya, and more
– "Shinobuzz Paper Fan", "GR8 Gear", and "ASAKUSA Wheel" taking existing Gum Weapons and add a new combination of Gum Ninjutsu, Special, and Gum Shoots
– New Shinobi Card "Strike Big" to start the battle with a Big Weapon
– "Online Tournament" mode added; Nisshin's UFO Yakisoba will be a collaboration for the first tournament
– Tournament is a 12-hour event where players play as many Rank Battles as possible and compete on a separate, event-exclusive ladder
– Can earn a special IPPON Decoration, a limited edition emote, Gumball Machine Coins, and Ninja Medals as prizes in the tournament
– Ninjala Striker is the Season 5 Featured Battle
– This is a mode where players split into two teams of four and attack a giant ball on the stage and hit it toward the enemy goal
– After every Ninjala Striker victory, can win the "Soccer Soldier Cap headgear"
– Other big things planned for Season 5 such as a new in-game event called the "Goemon Matsuri", another Loot Battle Matsuri, more Ninjala Pass Matsuri, and a big collaboration
GungHo has also announced the Ninjala Beginners Campaign. Players can receive 1,000 Jala simply by logging in between March 25 and April 14 while Story Pack Vol. 1 and 2 will be 55 percent off. Additionally, the "Tale for Ninjala Beginners" tutorial game mode will be added, and it can be cleared to earn a custom outfit, the "Neo-Shinobi Overalls Miyabi" and Gumball Machine Coins for the new "Coin Gacha".
You can watch today's full video below from GungHo that further delves into future plans for Ninjala.
Leave a Reply