NinNinDays2 heading to Switch this month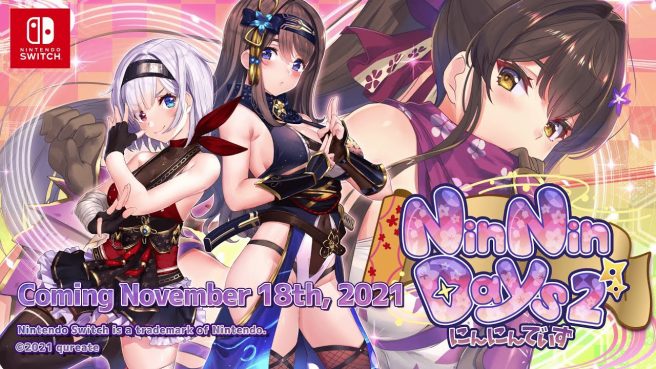 Qureate is bringing the romance adventure game NinNinDays2 to Switch this month, the developer announced today. A digital release is planned for November 18.
The original NinNinDays was announced for Switch in February 2020. It then released a month later in March.
Qureate has shared some early information about NinNinDays2 as part of today's announcement. Read a bit more about the game below.
A life turned upside down after an encounter with two female ninja?!

This romance adventure game is set in Akihabara, where you'll enjoy your new, slightly naughty roommate life with laughter, tears, and the friendship of two female ninja.

The "E-mote" engine that can move illustrations smoothly and three-dimensionally is used for standing pictures in the game.

The characters displayed on the screen move as if they were alive.

■CAST
Suzuran: CV Suzu Sazanami
Kikyō: CV Yuka Nohara
Sumire: CV Mika Onoyama

■Product Information
Title: NinNinDays2
Platform: Nintendo Switch
Release: November 18, 2021
Genre: ADV
Player: One player
Text language: English, Japanese, Traditional Chinese, Simplified characters
Voice language: Japanese
NinNinDays2 will be sold digitally for Switch via the eShop. It's not up quite yet, but once available, you'll be able to access the official website here.
Leave a Reply