Nintendo confirms over 200 million Nintendo Accounts worldwide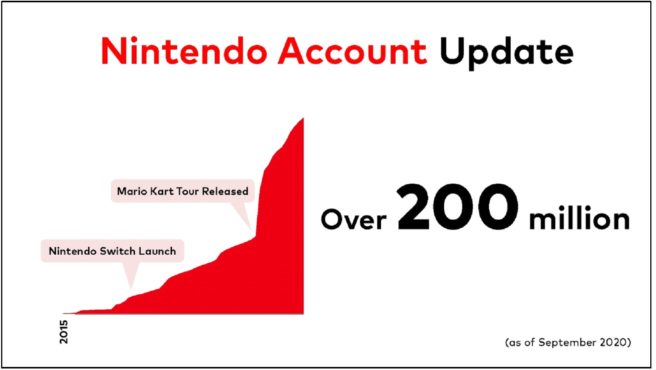 This information comes from Nintendo president Shuntaro Furukawa, speaking during the company's Corporate Management Policy Briefing…
Alongside IP expansion, we introduced our Nintendo Account program in 2015, which was prior to the launch of Nintendo Switch, as another way to establish and grow long-term relationships with consumers.

Nintendo Accounts serve as the foundation for connecting a variety of consumer play experiences across platform generations through our integrated hardware and software. We will continue designing and implementing services that offer consumers even more value, more features and more ways to have fun.

There are now more than 200 million Nintendo Accounts worldwide. As mentioned, we have worked to expand our IP beyond the dedicated video game platform business to reach consumers who don't own any of our game systems. This resulted in a substantial increase in consumers creating a Nintendo Account, thanks in particular to the release of the Mario Kart Tour mobile application.

The number of Nintendo Accounts has also been steadily increasing alongside the growing install base of Nintendo Switch.

Our Nintendo Account user base is demographically quite broad. Whereas we previously have used market research to understand the makeup of our consumer base, we now have a better understanding of our consumers.

To date, Nintendo Accounts have been rolled out in 164 countries and regions, including some where our dedicated video game platforms don't have a presence. In the future, the Nintendo Account program will continue to provide an important foundation for delivering our products and IP.
Leave a Reply