Nintendo discusses releases for fiscal year ending March 2022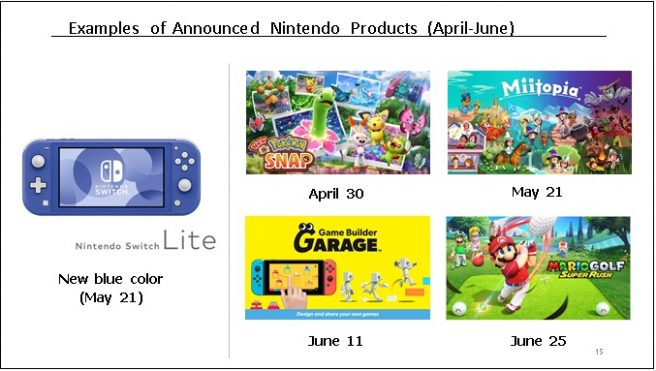 Nintendo touched on its upcoming slate of releases during its financial results call today.
New Pokemon Snap just came out on April 30. On the horizon are Miitopia, Game Builder Garage, and Mario Golf: Super Rush. There's also the upcoming launch of the blue Switch Lite.
Nintendo said the following today:
We plan to launch these main products for the first quarter of the fiscal year ending March 2022.

For hardware, we will launch a new blue color Nintendo Switch Lite on May 21. The addition of blue makes five color options for Nintendo Switch Lite, the dedicated handheld gaming system that integrates the controllers with the device and is compact, lightweight, and easy to carry around.

For software, on April 30 we released New Pokémon Snap, an entirely original Pokémon Snap title, in which the playerʻs goal is to complete a Pokémon Photodex by taking pictures of wild Pokémon. We will follow that up with Miitopia, a game in which you can freely cast Mii, which resemble the player, in various roles in your own personal adventure. This title will be released on May 21 at the same time as Nintendo Switch Lite – Blue. Then, on June 11, we will release Game Builder Garage, which was just announced this morning. This title helps to expose players to computational thinking through the fun experience of creating a game. Even without any special knowledge, players can create games just by connecting characters called "Nodon" according to the guidance. We think that not only children but also those who have never had an interest in programming will enjoy creating games and feel a sense of accomplishment. And on June 25, we'll be releasing the latest entry in the Mario Golf series, Mario Golf: Super Rush, in which you can easily enjoy an authentic game of golf. In addition to the series' more familiar elements, we've added new game modes like "Speed Golf," where you race through the course to be the fastest to get your ball in the hole.
Leave a Reply