Nintendo discusses strong sales of Switch software, including Super Mario 3D World + Bowser's Fury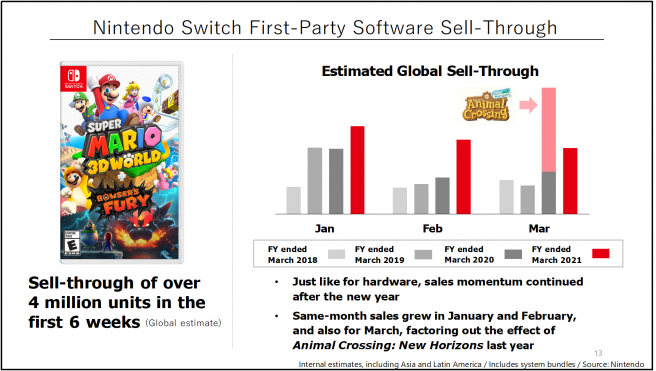 Nintendo has pointed to Super Mario 3D World + Bowser's Fury as one of its top performing Switch games of late. In its first six week, the sell-through amount was four million units.
Nintendo also shared the graph above as part of its latest financial results to stress overall strong software sales for Switch.
The company said:
Let's move on to a discussion of software in the fourth quarter. Super Mario 3D World + Bowser's Fury was released on February 12 and had an estimated global sell-through of over 4 million units in its first six weeks. It represents a new addition to our evergreen titles that we can recommend to a wide range of consumers.

The graph on the right compares monthly global estimated sell-through of first- party Nintendo Switch software in January, February and March over the past four years. Just like with the growth in hardware, sales of software have also continued to be strong since the start of the year. In both January and February, sales exceeded the levels of the previous year. In March, while sales did not reach the level of the same month last year, when Animal Crossing: New Horizons was released, in terms of the scale of software sell-through, you can see that the bar has been raised just like it has for January and February. In our nine-month financial results briefing, we noted that sales were strong not only for new titles, but also for titles released in previous fiscal years. That same trend is continuing now.
Leave a Reply