Nintendo Download (11/6/18, North America) – Smash Bros., Katamari Damacy, Everspace, more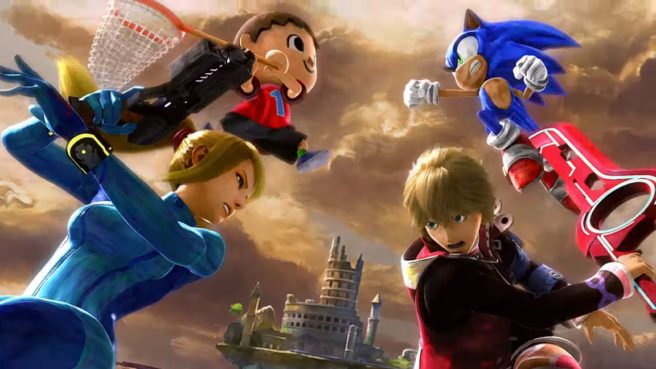 This week's North American Nintendo Downloads are as follows:
Switch Retail
ARK: Survival Evolved – $49.99
Everspace – Stellar Edition – $31.99 (available December 11)
Hello Neighbor Hide and Seek – $26.99 (available December 7)
Katamari Damacy Reroll – $29.99 (available December 7)
SEGA Genesis Classics – $29.99 (available December 7)
Super Smash Bros. Ultimate – $59.99 (available December 7)
Switch Download
3D Billiards – Pool & Snooker – $19.99
ACA NeoGeo Neo Geo Cup '98: The Road to the Victory – $7.99
Arcade Archives Route 16 – $7.99
Atelier Arland series Deluxe Pack – $89.99
Atelier Meruru ~The Apprentice of Arland~ DX – $39.99
Atelier Rorona ~The Alchemist of Arland~ DX – $39.99
Atelier Totori ~The Adventurer of Arland~ DX – $39.99
Basketball – $9.99
Beholder: Complete Edition – $14.99
Carcassonne – $19.99
Color Zen – free-to-download
Conduct Together! – $19.99
Desert Child – $11.99 (available December 11)
Guacamelee! 2 – $17.99 (available December 10)
Kingdom Two Crowns – $19.99 (available December 11)
LongStory: A dating game for the real world – $11.89
Monica e a Guarda dos Coelhos – $14.99
Rival Megagun – $14.99
Santa Tracker – $2.99 (available December 7)
Ultimate Runner – $19.99
Switch Demo
Xenon Valkyrie+
Nintendo Entertainment System – Nintendo Switch Online
Adventures of Lolo – After the love of his life, Lala, is kidnapped by the devilish King Egger and taken to his haunted castle, our hero, Lolo, sets out to rescue her. The journey is perilous, as the Great Devil's fortress is guarded by a massive army. But Lolo has a few tricks up his sleeve. Combining clever environmental puzzles with tricky enemies and an engaging style, Adventures of Lolo is a true classic.
Ninja Gaiden – Take on the role of Ryu Hayabusa, a rising ninja in his family's clan who travels to America to seek vengeance for his father's death. Fight your way through six challenging side-scrolling chapters/14 stages (not including boss battles) while defeating gangs of street thugs, battling evil ninjas and fighting barbarian bosses by using the deadly Dragon Sword, ninja skills and ninja magic.
Wario's Woods – Control Toad as he scrambles along the bottom of the screen picking up monsters and bombs and arranging them vertically, horizontally and diagonally to clear the screen of enemies. This game features several modes of play, such as basic, lesson and time race. If you like puzzle games like Dr. Mario, you will definitely love this one!
3DS Download
PixelMaker Studio – $9.99
Wii U Download
Call of Nightmare – $0.99
eShop Sales
Nintendo eShop on Nintendo Switch, Nintendo 3DS and Wii U
Great deals this week! Check out the full list of deals available this week at http://www.nintendo.com/games/sales-and-deals.
Activities
Celebrate the Launch of the Super Smash Bros. Ultimate Game with My Nintendo Rewards – In honor of the release, My Nintendo is also offering a Super Smash Bros. themed January 2019 calendar and wallpapers. Redeem your points** to get this cool reward when it's available on Dec. 7. Don't forget that My Nintendo users who purchase and register the game by Jan. 31, 2019, will receive a download code for Piranha Plant, which will join the battle as a playable character when it's available.
Source: Nintendo PR
Leave a Reply