Nintendo Download – January 14, 2021 (North America) – Scott Pilgrim vs. The World and more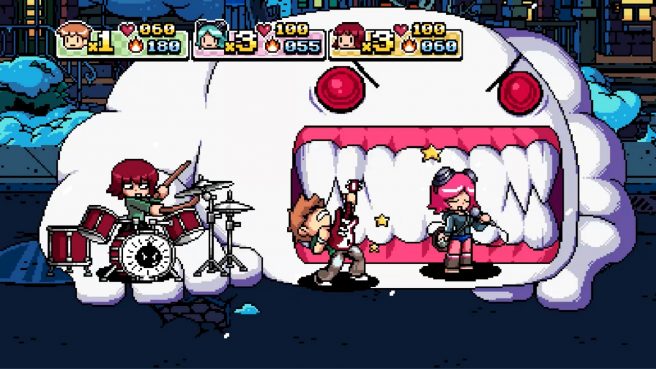 This week's North American Nintendo Downloads are as follows:
Switch Download
16-Bit Soccer – $4.99
ACT IT OUT XL! A Game of Charades – $11.99
All Walls Must Fall – $9.99 (available January 20)
Arcade Archives Rod Land – $7.99
Blacksmith of the Sand Kingdom – $19.99
Bullet Trail – $2.99
Clay Skeet Shooting – $3.99 (available January 17)
Clumsy Rush – $4.99
Dirt Trackin Sprint Cars – $9.99
Down in Bermuda – $19.99
Espacio Cosmic Light-Seeker – $3.49
Fantasy Tavern Sextet Vol. 2 Adventurer's Days – $7.99
Knight with Tactics – $0.99
Life of Fly – $14.99
Maze with cube – $2.99
My Hidden Things – $6.99
My Magic Florist – $6.99 (available January 15)
Ping Redux – $4.99
Ploid – $2.99
Red Colony – $6.99 (available January 18)
Rhythm Fighter – $16.99
Scott Pilgrim vs. The World: The Game – Complete Edition – $14.99
Shadow Gangs – $23.99
Solar Blast – $4.99 (available January 15)
Spinny's Journey – $14.99 (available January 18)
Virtual Battle – $7.69
Wacky Run – $2.99
War Truck Simulator – $7.99 (available January 19)
Writhe – $9.99 (available January 15)
Zortrix Starglider – $9.99
Switch DLC
Let the Gains Begin! – Turn up the heat with the free No Mercy DLC for Fitness Boxing 2: Rhythm & Exercise. This intense workout will see your instructor get a little feisty to push you past that plateau. Get ready for a fierce regimen when Janice, Martina and Sophie take their gloves off and give you the extra motivation you need. They'll be entering the ring to join the ruthless versions of Lin, Evan, Karen and Hiro, who just launched last month. Don't worry, you can always change back to mellower versions of your trainer whenever you feel like cooling off. The No Mercy DLC is currently available for free in Nintendo eShop.
eShop Sales
New Year, New Sale! – Along with the new year, a new sale has arrived on Nintendo Switch games! Starting now and running until Jan. 21 at 11:59 p.m. PT, take advantage of a New Year sale in Nintendo eShop to get up to 30% off the digital versions of Nintendo Switch games, including critically acclaimed titles like Clubhouse Games: 51 Worldwide Classics, Immortals Fenyx Rising, Super Mario Maker 2 and Ori and the Will of the Wisps. It's a great chance to work on that New Year's resolution to play more games! Check out the full list of deals available this week at https://www.nintendo.com/games/sales-and-deals.
Source: Nintendo PR
Leave a Reply