Nintendo gives terminally ill Zelda fan chance to play Breath of the Wild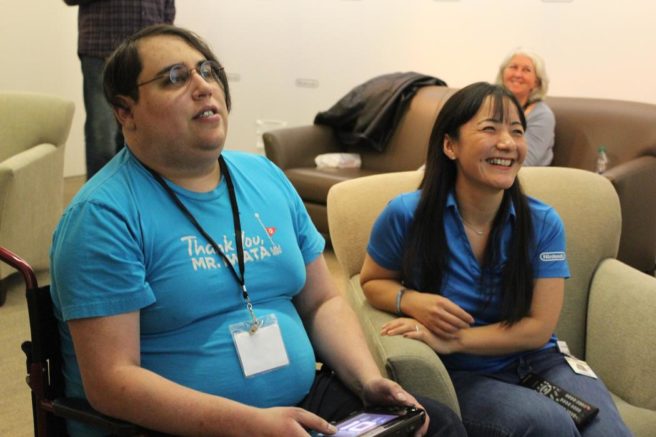 A heart-moving feature on a Zelda fan with a terminal heart condition who got the chance to play Breath of the Wild early is available to read on Waypoint. We've collected some quotes from the article and written up a quick synopsis to go with it. If you want to read the entire thing, check out the full article here.
Last July, Gabe Marcelo wasn't sure he could attend PAX Prime. This wouldn't normally be a big deal, but the 26-year-old's lifelong heart condition had taken a turn for a worse, and he'd been stuck in the hospital for a while. The problem: PAX might be his one shot to play The Legend of Zelda: Breath of the Wild, the newest game in his favorite series, before he died.

"Being home bound for the most part," said his mother, Anita Marcelo, "these dates were really important. They were his calendar, just as birthdays and holidays were."

He found the strength to attend PAX. Though the plan was to only show up for a single day, due to his condition, Gabe managed to surprise everyone. His family helped him around in a wheelchair all four days. Unfortunately, Nintendo didn't bring Breath of the Wild to PAX, prompting Gabe to ask his mother if she'd ask Nintendo for a chance to play the game early.

Gabe Marcelo, the subject of the article itself, had a heart condition for his entire life that progressively worsened as time went on, and would eventually claim his life. While naturally upbeat and positive, Gabe had to deal with physical pain daily. During this time, he developed a love for games that helped him experience things that he was physically unable to do, like running through a field or jumping. Zelda became his favorite series, and living to see the release of Breath of the Wild became his reason to continue to fight against his heart condition.
In an attempt to give Gabe a chance to play the title beforehand, his mother contacted Nintendo several times. While it took a few tries, eventually Nintendo responded and gave Gabe a chance to play the Breath of the Wild demo that only a lucky few have experienced so far.
A few weeks after Nintendo reached out, Gabe and his mother made a trip to Nintendo of America's headquarters in Seattle. Sporting a blue t-shirt with the words "Thank you Mr. Iwata," he was given a chance to live out his dream and play Breath of the Wild, for a little more than 30 minutes. It was the same demo that's been shown a million times, a constrained slice of the game's open world. (Given Gabe's physical limitations in the real-world, it was oddly fitting.) A group of Nintendo employees huddled around, cheering him on as he jumped, swam, and climbed up mountains. He even got into some mischief, lighting things on fire.

"He was, in that game, what he was not in life," she said. "I could go out walking and Gabe could not join me. When I did, I thought about the fact that he could not get the benefit of fresh cool air and the freedom of just walking in our wooded neighborhood. When I saw the Zelda game, I realized that this was the wonderful world he wanted."

Besides playing the game, Gabe toured the facilities, excited at the sheer prospect of seeing a meeting room where people talked about making Nintendo games. After lunch, where everyone swapped gaming stories, he visited the gift shop to buy gifts for other people. ("Gabe was very generous to friends and family and loved giving gifts," said his brother.) Nintendo returned the favor, handing over a Zelda backpack with, among other things, a signed poster.

"I could tell in his voice that he was filled with pure happiness," said Jaime, "something that had become harder to attain as his condition worsened."
If you like what you've read so far, make sure you check out the full article. It's a wonderfully written article, and definitely comes recommended.
Leave a Reply