Nintendo hosts a Mario level-design workshop at the Los Angeles Public Library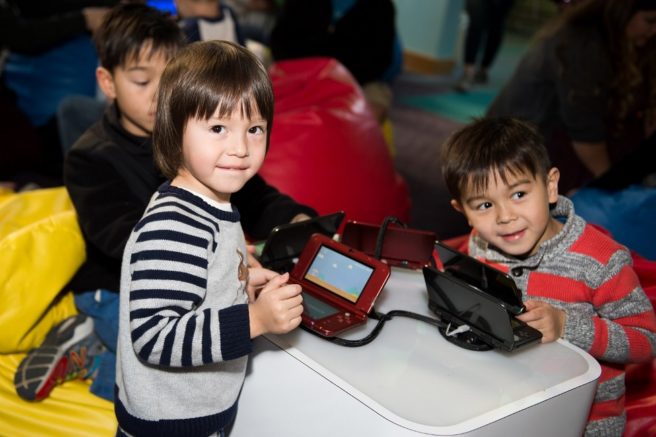 Last Friday, Nintendo partnered with the City Dads Group for an interactive "Build, Play, Share" workshop at the Los Angeles Public Library. The organization provides a means for dads "to bond with their children and fellow parents."
Families and local teens were able to participate in building content at the workshop. Specifically, attendees learned about making virtual courses in Super Mario Maker for 3DS.
Here's what happened at the event, as Nintendo describes:
"The 'Build, Play, Share' workshop invited people of all ages to the Los Angeles Public Library's Central Library in downtown L.A. to work in teams to conceptualize and build their own courses in Super Mario Maker for Nintendo 3DS. Game-design experts from Nintendo were on hand to lend their expertise to attendees, while also providing tips and sparking course-building ideas. In addition to this event in Los Angeles, video assets will soon be available on the Play Nintendo website for other organizations to access so they can host their own 'Build, Play, Share' workshops."
Representatives had this to say about the design workshop:
"With the recent national push for more STEM programs for children in schools, partnering with City Dads Group and the Los Angeles Public Library was a great opportunity to highlight the level-design capabilities of Super Mario Maker for Nintendo 3DS. This exciting event helped introduce a new playtime activity for the digital era that families can enjoy together." – Doug Bowser, Nintendo of America's Senior Vice President of Sales and Marketing

"City Dads Group was fortunate to collaborate with an amazing brand like Nintendo to host a game design workshop in the L.A. Public Library. The interactive event immersed dads and their little ones in winning experiences that are fun for the whole family." – Lance Somerfeld, co-founder, City Dads Group.
Source: Nintendo PR
Leave a Reply