Nintendo on its environmental initiatives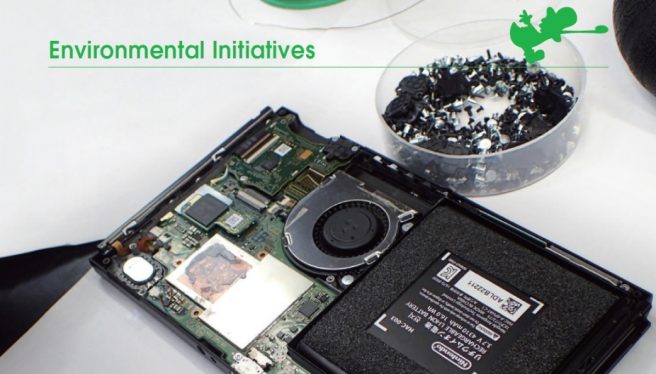 In its 2021 CSR report published today, Nintendo discussed a number of environmental initiatives it has in place.
The company started out by highlighting Switch, which has seen energy efficient improvements starting with the Switch Lite in 2019 for better battery life. The company is also making considerations when it comes to transportation and sales, repair and support, and recycling.
Here's the full rundown from Nintendo:
In response to society's expectations, and to cultivate a better environment for future generations, Nintendo is not only exercising care with our office environment, but also embarking on various initiatives to reduce the environmental impact of our products. These initiatives span the design stage to post-sales repair and support, and continue through to recycling.

Design

We have continued to implement energy efficiency improvements for Nintendo Switch after its launch, resulting in extended battery life for the current model released in 2019.

Nintendo Switch Lite, released after that, also uses the same energy saving mechanism as the current Nintendo Switch model.

In addition, we are working to avoid the unnecessary use of resources, and conducting the following initiatives to conserve resources and increase recyclability.

– Reduce the use of composite materials* in our product design
– Improve ease of disassembly
– Ensure labelling of constituent materials to make them easier to recycle after disassembly
– Expand the use of resource-conserving materials
– Consider how to reduce environmental impact at disposal

* Composite materials combine separate materials, such as "paper + aluminum" or "paper + plastic," into a single material, and are generally considered difficult to recycle.

Transportation and Sales

Nintendo of Europe proactively works to reduce CO2 emissions in the transport of its products by advancing modal shift and other initiatives.

As an example, we mainly use rail for inbound containers from European ports to our distribution centers. For outbound shipments from our European distribution centers to retail partners, our aim is always to load trucks to their full capacity to keep the number of single shipments as low as possible. This is also supported by our IT system, which consolidates orders into a single outbound shipment when possible, taking into consideration the delivery dates requested by retail partners.

Repair and Support

Nintendo Co., Ltd. (Japan) has established the Nintendo Service Center as the point of contact for product repairs and parts sales.

In addition, so that users can keep their game systems in good condition and continue to use them for a long time, we used Nintendo Switch repair data to create a reference page of actions that may damage the system and published it on
our support site (Japanese only). We believe it is important for consumers to form an attachment to our products and keep using them over a long time. This is also significant for protecting the global environment, and we have set up systems in each country and region to carry out repairs whenever possible.

We are also working to improve our support sites and proactively providing information to our consumers.

Recycling

Nintendo of America offers consumers, both in the U.S. and Canada, recycling for any of their video game products (not just Nintendo products) through our Take Back Program. Under this program, Nintendo of America will supply postage, along with instructions on how to send their video game products to us for R2* certified recycling. Upon request, we will also provide fully recyclable packaging for the consumer. Our recycling partners are all contractually required to have R2 certification to ensure that the materials are handled properly and securely.

* R2
Responsible Recycling is a standard for recycling electronics that has spread throughout North and South America. The official name is Responsible Recycling ("R2") Practices for Use in Accredited Certification Programs for Electronics Recyclers.
Leave a Reply