Nintendo on using Nintendo Accounts to deepen connection with consumers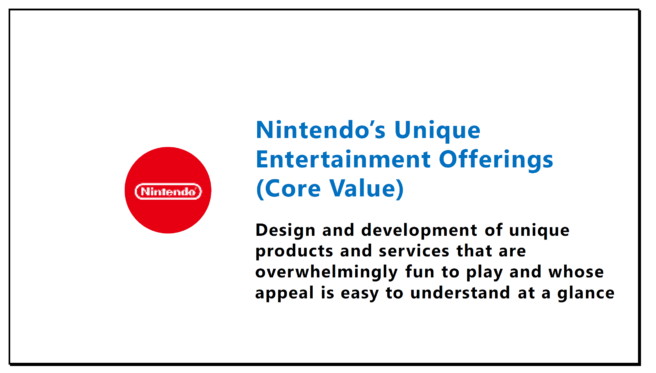 This information comes from Nintendo president Shuntaro Furukawa…
In this market environment, we believe that the strengths Nintendo has cultivated historically will become even more important. It is the strength of being in a position to create the value unique to Nintendo, through developing both hardware and software as integrated products, and is the strength of being able to create the entertainment which can be enjoyed by anyone including families and friends, both children and adults, with a lot of fun when they get together.

We want to expand the consumer base that interacts with our core value by utilizing Nintendo IP, and deepen our connection with consumers through initiatives to leverage Nintendo Account.

"Active Use of Nintendo IP" is weak interaction we use to broaden the consumer base connected to Nintendo. So, this is represented on the slide as the wider circle connected to Nintendo. By creating more opportunities for consumers to encounter Nintendo characters and worlds in their everyday lives, a broader range of consumers are becoming familiar with Nintendo.

Nintendo Account, on the other hand, is the foothold for constructing long-term relationships between consumers and Nintendo. It forms the basis of our strong interaction to deepen the connection between consumers and Nintendo. That's why it is represented on this slide as the small circle that is closest to Nintendo. Initiatives like My Nintendo and our efforts to strengthen Nintendo Switch Online and the digital business are all linked within our business based on the use of Nintendo Account. We are using Nintendo Account to enhance consumer satisfaction and build continuing close and trusting relationships with them. Both the active use of Nintendo IP and the promotion of
business based on the use of Nintendo Account have increasing points of contact with consumers in common, and we intend to use the combination of these two as a foothold to continue stabilizing revenue and boosting profitability.
Leave a Reply