Nintendo reflects on changes in the business environment surrounding the company between the 2000s and now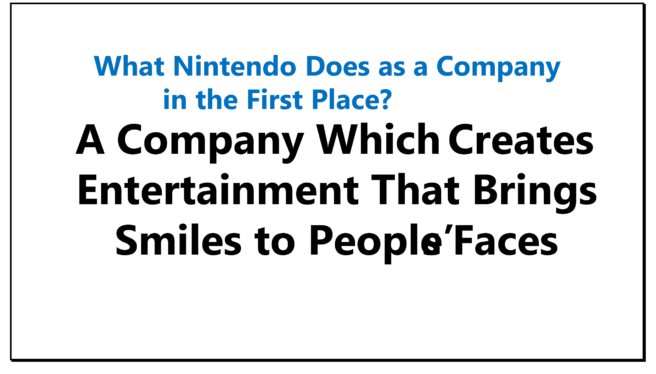 This information comes from Nintendo president Shuntaro Furukawa…
When I became company president, I discussed with the directors here today the questions, "What is Nintendo?" and "What it does as a company in the first place," and we reaffirmed that we are "a company which creates entertainment that brings smiles to people's faces." Nintendo has long upheld the idea of "entertainment" as the cornerstone of its business, and we want to continue to make people smile through entertainment. To understand how we arrived at this basic strategy, I'd like to start by looking back at the changes in the business environment surrounding Nintendo between the 2000s and now, and how the company changed strategies in response.

At the start of the 2000s, advancements in video game system performance rapidly led to more sophisticated and complex games. This created a growing belief among the general public that games were only for a select group of fans, which led to stagnation brought about by shrinking demand for games as indifference among some consumers grew. We called this the "gamer drift" phenomena, and in response…

Nintendo adopted a strategy of "gaming population expansion" and through Nintendo DS and Wii, offered ways of playing that everyone could enjoy regardless of age, gender, or gaming experience. These efforts to expand the consumer base that enjoys video games yielded more than a certain level of results on Nintendo DS and Wii.

Starting in late 2000s, smart devices with touchscreens and other advanced features spread rapidly over the next ten years. We entered an era where everyone everywhere always carries around a device that can be used to play games. This, combined with the popularization of new payment models such as free-to=start, significantly lowered the threshold for developing games, and thus spawned countless titles.

Within this changing environment, we redefined our strengths. In addition to our development capabilities in creating integrated hardware-software products, we pursued discovery of new business opportunities by focusing on the game characters and worlds we have built up over the history of Nintendo's home entertainment systems, considering this IP as our starting point, and by expanding this IP. At that time, our basic strategy became "expand the number of people who have access to Nintendo IP," and we began working on actively leveraging the worldwide ubiquity of smart devices and on our IP expansion business, which includes theme parks, video content, and character merchandising.
Leave a Reply