Nintendo talks about its previous efforts to expand the gaming population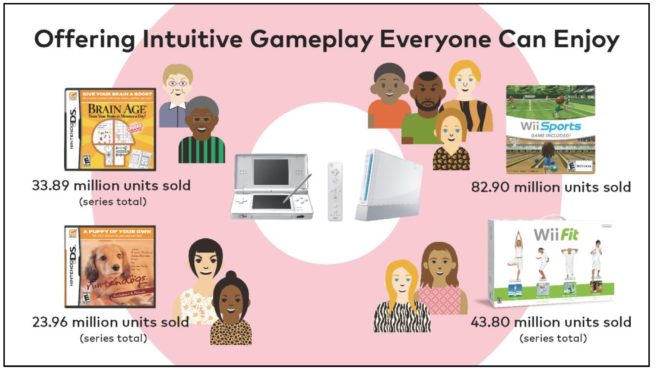 This information comes from Nintendo president Shuntaro Furukawa, speaking during the company's Corporate Management Policy Briefing…
In 2004, we launched Nintendo DS and began releasing games like nintendogs and those in the Brain Age series that made use of the system's stylus and dual LCD screens. Both broadened the gaming population, as the Brain Age series was popular among seniors, while nintendogs was popular among women. And for Wii in 2006, we released games like Wii Sports and Win Fit that used a motion sensor built into a remote-style controller for intuitive gameplay. The Wii system was popular with families, bringing parents and children together for interactive fun. These new products invited a broader audience of consumers to experience our games, including many who were new to gaming, and these new consumers also became proponents for our games after experiencing them.

As interest in our products continued to grow, those who bought our video game systems – even though who didn't think games were for them – would seek out additional games from Nintendo and other software publishers. Because of this, we have been able to build relationships with new consumers that endure to this day. We have developed many of our products in hope that friends and family will play them together. This has led to a natural progression of generations of families playing together – all the way from grandparents to grandchildren, and extending out to their friends.

This has helped us broaden our audience, and helped consumers around the world come to a shared understanding of what Nintendo entertainment is about.
Leave a Reply