Noir dystopian adventure Backbone announced for Switch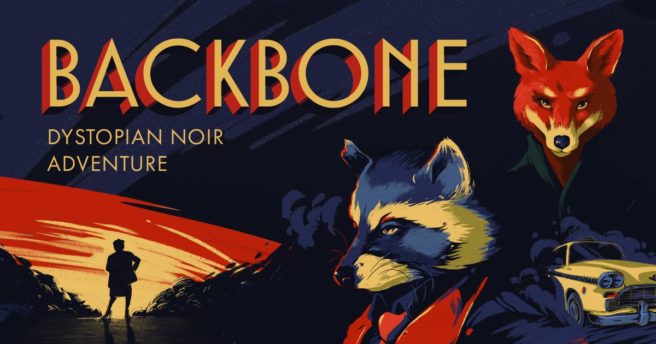 Publisher Raw Fury and developer EggNut today announced that the noir adventure game Backbone is coming to Switch. It will be available on Nintendo's console in early 2020.
Here's an overview of Backbone:
Backbone is a pixel art noir detective adventure. Step into the shoes of Howard Lotor, a raccoon private eye. Interrogate witnesses through branching dialogues inspired by classic CRPGs, sneak through diverse districts of a now walled-off dystopian Vancouver, sniff out clues, and choose which leads to follow.

Gameplay: cinematic detective adventure with stealth, puzzles and branching dialogues
Inspiration: Vancouver, film noir, modern dystopian political regimes
Main themes: power, systemic discrimination, mortality

Main Features

● Backbone is a dark story set in dystopian anthropomorphic animal society, where social class is dictated by species.
● As a detective, sniff out clues and evidence, interrogate witnesses, solve stealth puzzles, and choose which leads to follow.
● Stunning combination of high resolution pixel art and Unreal Engine tools like volumetric lighting, particle effects and custom materials.
● Non-linear conversations with a diverse cast of characters inspired by old school CRPGs.
● Detailed environments are modeled after the real streets of Vancouver, BC.
● Original doom jazz OST.
● You get to play as a highly relatable raccoon in a trench coat.
And a trailer:
Source: Raw Fury PR
Leave a Reply