Observer launches February 7 on Switch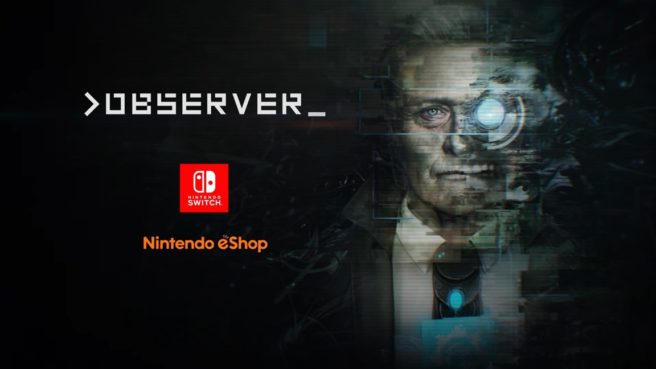 Observer is just a few days away from reaching Switch. The "cyberpunk, detective thriller" will release digitally on February 7, Bloober Team announced today.
Here's an overview, along with a first look at the Switch version:
Observer is a cyberpunk, detective thriller set in the year 2084 in Krakow, Poland. The world lies in ruins with corporations seizing power after the fall of governments. You do their bidding. No lie will remain hidden from you, as you hack into the minds of those you interrogate. When your past catches up with you, you must act on your own and unravel the mystery of your son's disappearance. Your name is Daniel Lazarski, you're an Observer.

Features

– Hack into the twisted minds of criminals and their victims as you traverse a surreal landscape, uncovering meaning behind imagery.
– Unique cyberpunk setting, as players find themselves in 2084 AD, Krakow, Poland.
– Genre-defining gameplay in an unsettling, dark dystopian future.
– Exercise your morality by making difficult choices in the futuristic slums, where the law is what you make it.
Observer will cost $29.99 / €29.99 on the Switch eShop.
Leave a Reply