Operation Wolf Returns: First Mission, remake of 1987 Taito arcade game, announced for Switch
Posted on September 16, 2022 by Nicolas in News, Switch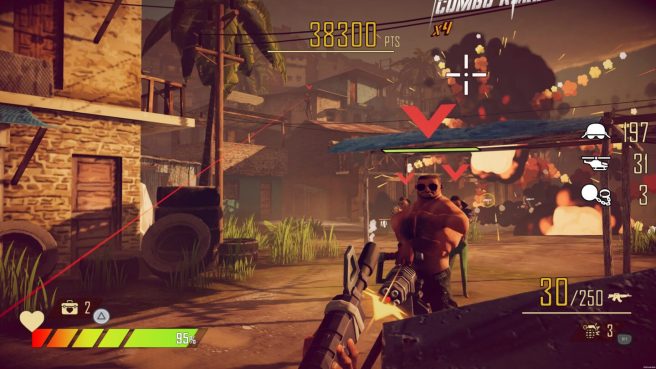 Publisher Microids and developer Virtuallyz Gaming have announced Operation Wolf Returns: First Mission, a new action shooter releasing this Fall on Switch.
Operation Wolf Returns: First Mission is a remake of the 1987 Taito arcade rail shooter Operation Wolf. It's set to expand on that game's original concept with a full HD reimagining of the title.
Here is a full overview of the game from the publisher:
About

Discover or rediscover Operation Wolf, the cult classic arcade game developed and published by TAITO in 1987, one of the very first games to offer side-scrolling rail shooting action.

Developed by the French studio Virtuallyz Gaming, Operation Wolf Returns: First Mission remains faithful to the original game whilst offering a brand new art style. Players are invited to experience the mood of an 80's action movie thanks to a non-stop frenetic gameplay.

In the game campaign, play solo or co-op locally as special agents tasked to fight a criminal organization. In addition to drug and weapon trafficking, the organization lead by the mysterious General Viper seems to have developed a weapon of mass destruction! Following the discovery of several of the group bases, the agents are sent on location to dismantle the consortium, eliminate the weapons and free the hostages from various prisoner camps.

Key Features

Comeback of the 1987 cult arcade game!
New art style.
Non-stop action.
A campaign for one or two players.
A survival mode (endless waves of enemies).
A full blown arsenal (SMG, shotgun, grenade launcher, etc.).
A leaderboard.
Operation Wolf Returns: First Mission is set to release both physically and digitally on Switch.
Source: Microids PR via Gematsu
Leave a Reply