OTTTD from Death Squared dev SMG Studio gets a surprise release on Switch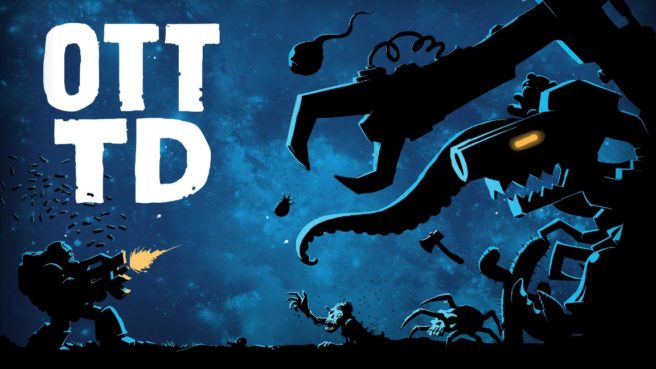 SMG Studio, the developer of Death Squared, has announced that it is putting the tower defense / real-time strategy mashup OTTTD on Switch. The best part? It's essentially out now. Those in Europe can already purchase the game, and it should be live when the North American / European eShops update tomorrow.
Here's everything you need to know about the game:
Like explosions? Love giant, flying, undead sharks? Then OTTTD is the game for you for you! Alternatively, if you'd like a strategy game that cleverly blends TD & RTS genres for a tactical challenge across an action-packed campaign then OTTTD will scratch that itch.

We describe the game as "Spaceballs meets Starship Troopers". But anyone under 30 has no idea what Spaceballs is (their loss) and legal said we wouldn't be allowed to say that… so we fall back on "It's an anything-goes TD game that doesn't take itself seriously."

THE FEATURES
– 25 story levels
– 3 difficulty levels with multiple save slots
– 2 unique dimensions
– Steamcrust (Steampunk/Crustaceans)
– Nightmare (Horror/zombie)
– 12 tower types
– Deep RPG mechanics
– Choose from 7 unique hero classes to make up your squad of 3. The more action they see the more XP they earn to level them up through custom skill trees.
– 30+ active abilities
– 40+ passive skills
– 40 original weapons to choose from.
– Multiple armor options with stats to suit your play-style
– 115% of your RDI of vitamin LOL, gibs and explosions.
– Epic boss battles including a Steampunk Kraken, flying Zombie Shark Boss and giant War Tortoise.
– Comic voices by serial collaborator Mick Laur (Ricepirate)
– Original soundtrack composed exclusively for the game by Sydney based BATTERIE
We also have the following trailer:
OTTTD costs $7.99 / €6.99 / £5.99 on the Switch eShop.
Source: SMG Studio PR
Leave a Reply