Over-the-top driving arcade action game Agent Intercept coming to Switch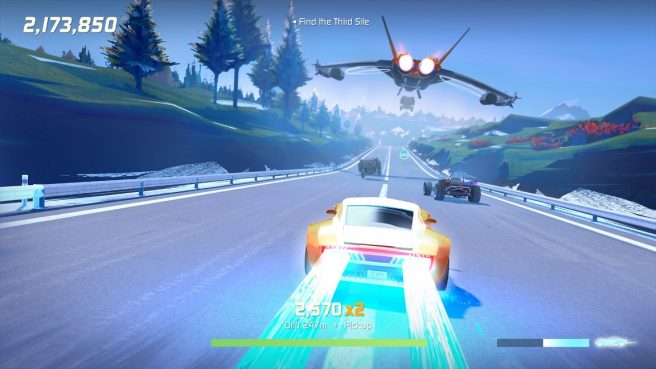 PikPok today announced that Agent Intercept, its over-the-top driving arcade action game with a transforming spy vehicle, is in the works for Switch. The game is scheduled to launch in Q1 2022.
Below is a whole bunch of information about Agent Intercept:
Get behind the wheel of the Sceptre, a souped-up vehicle capable of transforming at a moment's notice. Track down the masterminds behind CLAW, an evil criminal organization, by drifting around corners in exotic locations before taking to the skies with a quick switch to Aerial mode. Avoid enemy fire on the open seas with a speedboat transformation, or race toward mountain fortresses in off-road Sled Mode.

Progress through stages set in breathtaking environments as the only Agent capable of handling the Sceptre and stopping CLAW's evil plans. Avoid hazards and enemy vehicles while drifting, boosting, and launching over trains to rack up a high score. Unleash an array of spy gadgets at enemies to clear the path forward and complete additional challenges in each stage to earn enough intel points to unlock the next mission.

Master the Sceptre's transformations to take down imposing bosses including attack helicopters, AI-controlled jets, orbital satellite's and nuclear submarines. Launch missiles, drop mines and reach impossible speeds to save the world from the clutches of CLAW with enough style to make even the most seasoned spy raise their eyebrows and lift their highball glass in recognition.

Compete against other Agent Intercept players in Score Attack mode, with various additional challenges and leaderboards to conquer. Pull off the perfect drift around every corner to achieve a top Time Trial mode placement, flex precise aim in Target Practice mode, or show off your mastery of the Sceptre by racking up huge scores in Highscore Chase mode. In Agent Intercept, the action is always cranked up to 11 because sometimes a spy needs to make an extremely explosive entrance.
Take a look at a trailer for Agent Intercept below.
Agent Intercept will be sold digitally for Switch via the eShop. Pricing is set at $19.99.
Find the game's official website here.
Source: PikPok PR
Leave a Reply