Overcooked devs considered bringing the game to Wii U, talk HD Rumble plans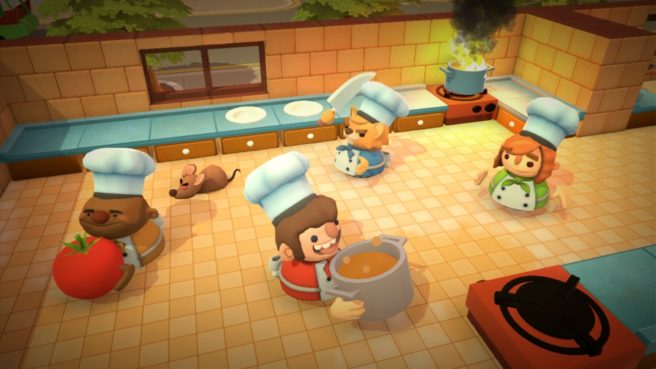 Nintendo UK has a new interview up with Ghost Town Games about Overcooked: Special Edition on Switch. The studio's Phil Duncan and Oli De-Vine spoke about bringing their popular game to Nintendo's new platform.
Duncan started out by discussing Overcooked origins on Switch. The team was actually thinking about a Wii U port, but that changed when Switch surfaced.
According to Duncan:
"We'd been speaking to Nintendo about maybe releasing it on Wii U. Obviously, at that time it was kind of the end of the Wii U lifecycle and everyone at Nintendo was gearing up for the Nintendo Switch and nobody really knew what it was going to be. Then, when it was announced what the Nintendo Switch was, that was when we immediately saw the potential. Everyone was instantly on Twitter or emailing us and just asking, 'Hey guys, when is Overcooked gonna come out?'. You know, it's a console that comes with two controllers, so it's perfect for Overcooked."
Duncan and De-Vine also spoke about plans for using HD Rumble on Switch:
PD: We're excited to experiment with it! From my point of view what HD Rumble allows you to do is a completely different kind of force feedback. It allows you more ways to communicate to the player. You can tell them when something is on fire or when something is about to burn out. You don't even have to look at the screen or listen to the audio, you've got something that instantly tells you something about the game. That great, particularly for a game like Overcooked, when the actions are so quick and so fast and you need to communicate the gameplay instantly.

OD: Also, it's a kind of communication that is direct to an individual player. For Overcooked, with its shared-screen co-op and many players on-screen, that extra fidelity is very useful.

PD: As a side note I think it would be really cool for developers to actually build games around HD Rumble. It would be really interesting to have a game where you're all looking at the same screen, but the game is communicating silently to one player to say, you know, 'you're it' or something. Like a game of Werewolf or something like that, where it's telling you you're a werewolf just by a subtle rumble in your hand.
Leave a Reply