Paper Animal RPG confirmed for Switch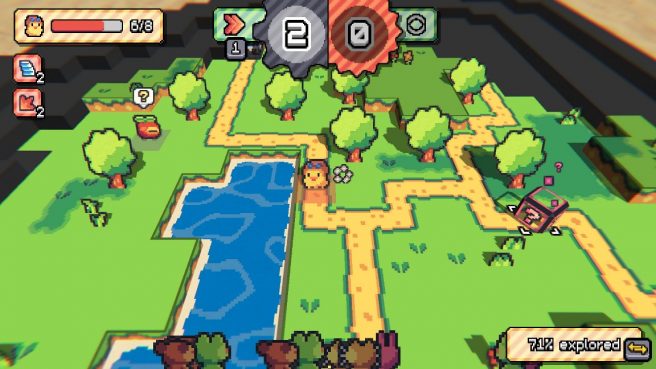 Paper Animal RPG landed on Kickstarter this week, and has already secured full funding having surpassed its goal of roughly $40,000. In the process, a Switch version has been confirmed.
The game, developed by Cuddling Raccoons Studio, is a roguelite RPG with a real-time tile-based battle system. Here's some additional information:
Paper Animal RPG is a cute roguelike game where you can explore a colorful world, fight scary enemies and relax with your friends at the campfire! The game is inspired by and pays homage to the Paper Mario, Mario & Luigi as well as the Pokémon Mystery Dungeon series.

Once upon a time, there was a small village, which was inhabited by many animals of all colors and sizes. The village was ruled by a kind king, who reigned with grace and maintained the order between the animals. One day, the king suddenly disappeared!

A few days later, the village fell into despair and the once so cheerful days seemed gone forever. In the midst of chaos a group of brave adventurers emerged, determined to find the whereabouts of the king!

Key Features

Procedurally generated maps!
6 adorable characters, specializing in power, utility and defense!
A bunch of consumable items. Once you stole a cookpot from an enemy camp you can combine them and experiment with the results!
Equip and upgrade skills suited to a character's role and customize your playstyle!
Find stickers that grant passive abilities – if you get lucky you can even find more powerful, holographic ones!
Defeat mean bosses, which have each an alternative stronger version when you start a Rewind Run!
Classic Mode is too hard? Try Casual Mode, which features tweaked gameplay settings for an easier experience!
Compete against other players for a global online highscore who played with the same generation seed as you in Tournament Mode!
Numerous unlockable achievements, which guide you to explore all aspects of the game!
You can get a closer look at the game via the trailer we have below.
The Kickstarter for Paper Animal RPG has a number of weeks remaining, and you can contribute here – rewards even include a physical version. Right now there's no word on a release window, but we'll keep you updated with additional status updates in the future.
Leave a Reply