Narrative adventure Paper Ghost Stories: Third Eye Open announced for Switch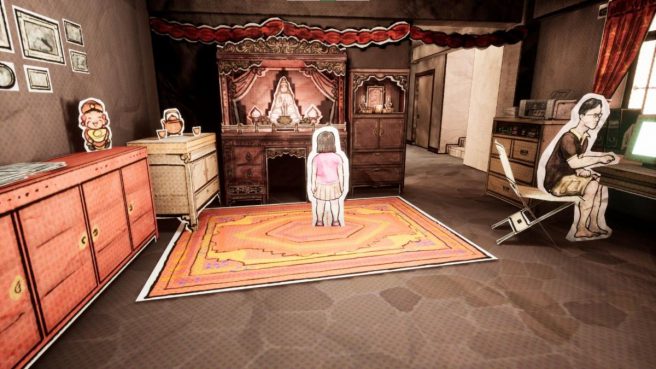 The third-person narrative adventure Paper Ghost Stories: Third Eye Open is heading to Switch, publisher Chorus Worldwide and developer Cellar Vault Games announced today. It will be released sometime in 2023.
Here's what we know thus far:
Ting, a young Chinese-Malaysian girl, unknowingly breaches the spirit world. Everywhere she goes, the apparition of a child named Xiu follows, visible only to her. Despite her efforts to keep Xiu a secret, other children notice, quickly earning Ting notoriety as a "weird" kid. Follow Ting through pre-school and primary school as she navigates the perils of home life and the mysterious spirit world.

Third Eye Open's gripping narrative unfolds across multiple years at locations including Ting's troubled home, creepy campgrounds, haunted houses, and even nightmares. Speak with friends and family through a timed dialogue system simulating heated arguments and hard questions. Interact with the world through a collection of minigames ranging from assembling a barbecue platter during a camping trip to hiding from malevolent phantoms.

Rendered in a living "paper theatre" style inspired by the paper puppetry – the shadow plays – of Southeast Asia, Third Eye Open haunts and charms in equal measure. The beautiful, childlike aesthetic belies a darker story of a family falling apart, Ting's role in its salvation, and the haunted house at the heart of it all. For added authenticity, all in-game sounds were recorded on location in Malaysia, in places such as the Taman neighborhood, local Ko Pi Tiam (coffee shops), and the Pasar Malam (night markets).
Those that are looking to dive further into the Paper Ghost Stories Universe can check out 7PM, which is currently available on Steam for free until June 2. This is a short story to Third Eye Open's novel: the former takes about one hour to complete, while Cellar Vault Games aims to make the latter approximately five to six hours long. Note that Third Eye Open's console release will come with 7PM.
Shintaro Kanaoya, founder and CEO of Chorus Worldwide, had this to say about the announcement:
"When we saw Cellar Vault Games' 7PM, we knew we'd played something special. Paper Ghost Stories: Third Eye Open takes many of the concepts that were in a fledgling form in 7PM and hugely expands upon them. We can't wait to bring this mix of Malaysian culture, coming-of-age drama, and spine-tingling story and gameplay to fans of original adventures everywhere."
Benny Chan, CEO and co-founder of Cellar Vault Games, also said:
"To bring our stories to PC and console players around the world is a dream come true. We hope to be telling Paper Ghost Stories for a long time to come, sharing tales of Malaysian folklore with as many people as possible. We can't wait for everyone to experience Ting's adventure!"
We have the debut trailer for Paper Ghost Stories: Third Eye Open below.
Chorus Worldwide will release Paper Ghost Stories: Third Eye Open on the Switch eShop. Additionally, Serenity Forge is readying a physical version for launch.
Source: Chorus Worldwide PR
Leave a Reply