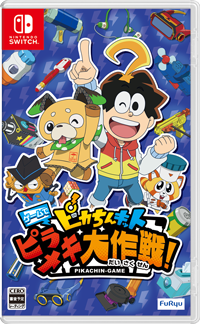 FuRyu recently announced Pikachin-Kit: Game de Perameki Daisakusen for Switch, launching November 8th in Japan for 5,980 yen. Some additional information was provided about the upcoming title:

Story

Make 100 million pikayen to take back the playground!

The park everyone usually plays in was bought out and is now unusable! Eiji, who sees that Pochiro is sad, hits on the idea that "If we had the money, we could buy back the park!," and creates and sells various inventions with the goal of making 100 million pikayen.

Features

Cute, pixelated characters move around in the game. By exploring the town and collecting kit materials, you can invent kits in your lab, and then you can sell those kits to buyers. As you progress through the game, you will befriend familiar characters from the TV anime including Hina-chan, Gakkun, and Ataru. By making more friends, you can earn money more efficiently.
Leave a Reply