Playdius bringing several games to Switch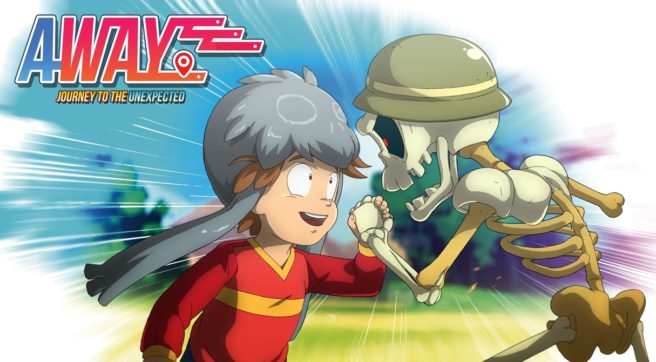 Publisher Playdius announced its lineup for Gamescom 2017 today. Several Switch games will be featured at the European expo next month, including a few ones we didn't know about previously.
Away: Journey to the Unexpected and Hover: Revolt of Gamers were previously announced for Switch. Joining them are BAFL: Brakes Are For Losers, Old School Musical, and Splasher.
Details about each game, in addition to release windows and trailers, are attached below.
Away: Journey to the Unexpected
Away is the new game from acknowledged French artist Aurélien Regard (The Next Penelope). It is a first-person feel good adventure game that combines action, negotiation and slightly roguish elements, presented in an animated style.

Progress through the levels and the story, choose your path, but above all, recruit allies. All the strange characters you meet in game can be played in first-person, and it's up to you to find the right answers to get them to join your team!

Developers: Aurélien Regard, Jim Gennisson
Style: First Person "Feel-Good" Adventure
Target Release: Q1 2018
BAFL: Brakes Are For Losers
BAFL: Brakes Are For Losers is a top-down, single-screen racing game created as a tribute to good old games such as Super Sprint, Indy Heat or Super Off Road.

Compete in 10-plus unique tracks, full of funny details and surprising events. Each one takes you to a different setting, from peaceful Caribbean island to hellish underground, from fabulous Las Vegas all the way to the Moon!

Key features include:

Old-school top-down action.
10-plus unique interactive tracks.
Eight funky cars.
Local multiplayer with up to eight players.
Solo and multiplayer Championships with car upgrades.
In-race events and dirty tricks.
Time Attack with World Ladders and Ghosts.
Badass soundtrack.
No. Brakes.

Developer: Oudidon
Style: Top-Down Hectic Racing
Target Release: Q3 2017
Old School Musical
Old School Musical is a retro rhythm game that will make you fall back in your childhood. Tib and Rob are the heroes of an epic and completely crazy adventure that will make them cross numerous worlds searching for the source of all bugs. With more than 20 original levels, a story mode, some hidden minigames and much more, Old School Musical offers a richer experience than most rhythm games.

Old School Musicial is back with a full new vision of the game, the core gameplay and the UI have been totally renewed since we last showed it.

Key features include:

Multiple game modes: story, arcade, scoring.
Solo or two players in "coopetitive mode."
Soundtrack by world famous Chiptune artists (to be announced soon).

Developer: La Moutarde
Style: Retro rhythm
Target Release: Q4 2017
Hover: Revolt of Gamers
Experience the thrills of a fast-paced single and multiplayer parkour game. Join the Rebellion and deride the security forces of an anti-leisure tyranny. Rise up to the many challenges of a futuristic Open World. Assemble your team, enhance your gear and perform incredible tricks and combos.

Key features include:

Full Open World / Amazing City – Huge futuristic colorful city, breathtaking vertical playgrounds.
Build Your Team – 10 playable characters to unlock.
Various Gameplays – Core action based on nervous races and amazing tricks but many alternative ways to play from stealth missions to sport matches.
Solo or Online – Instantly switch from single to multiplayer.
Create Your Own Challenges wit a simple in-game editor.
Crazy Movements, tricks, and combos.
Experience, skill grid, and chips.
Epic Soundtrack by Hideki Naganuma and Cedric Menendez.

Developer: Midgar Studio / Fusty Game
Style: Parkour open world
Target Release: Q4 2017
Splasher
Splasher is a fun and challenging 2D Platformer filled with humor and surprises. Armed with a paint cannon, you'll face the dangers of the Inkorp mega-factory in order to save your companions, the Splashers.

Use different paint colors to stick to walls and roofs, bounce high in the air, trick your opponents and put an end to the despicable projects of the evil boss!

Key features include:

Fistful of Ink – Use different paint colors to stick to walls and roofs, bounce high in the air, and trick your opponents.
Master Challenging Levels – Brave the traps and beat the gigantic factory's security devices. Learn from your mistakes to find the best path and get the best time in order to perfect the level.
Time Attack and Speedrun – Challenge gamers from around the globe with your best times, and share your scores on the leaderboards.

Developer: Splashteam
Genre: Splatformer
Target Release: Q3 2017
Source: Playdius PR
Leave a Reply