Pokemon Masters EX – Gloria and Zacian joining the game, other upcoming plans detailed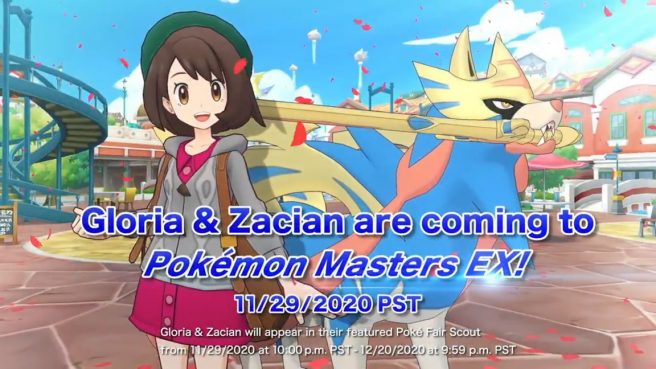 Pokemon Masters EX has outlined some of its upcoming plans. As part of this, it's been revealed that Gloria and Zacian will debut in the sync pair scout. They'll be going live on November 29 at 10 PM PT / November 30 at 1 AM ET.
Pokemon Masters EX is also getting its first prestige event, Skyla and Erika in holiday outfits, the return of popular sync pairs, and more. We have the full roundup below.
Gloria & Zacian will debut in the sync pair scout on 11/29 at 10:00 p.m. PST!

Are you ready to battle alongside the first sync pair from the Galar region?
#PokemonMasters pic.twitter.com/Cndf8Rctzs

— Pokémon Masters EX (@PokemonMasters) November 26, 2020
Log-in bonuses offering to 10,000 gems are coming soon!

From these normal and special log-in bonuses combined, you can get up to 10,000 gems!

Enjoy Pokémon Masters EX every day!

Duration:
11/29 at 10:00 p.m. PST – 12/31/2020 at 9:59 p.m. PST#PokemonMasters pic.twitter.com/Fr9vP30iEI

— Pokémon Masters EX (@PokemonMasters) November 26, 2020
Skyla and Erika in holiday outfits are coming 12/9 at 10:00 p.m. PST!

More information will be released on our official Twitter soon!#PokemonMasters pic.twitter.com/BpQblCNJ4A

— Pokémon Masters EX (@PokemonMasters) November 26, 2020
Coming soon: theme skills!

Activate effects based on how you build your team! Try teams with themes such as sync pairs from the same region or sync pairs that are family!

We hope to share more details about possible combinations soon, so stay tuned!#PokemonMasters pic.twitter.com/HbwjWq7jNE

— Pokémon Masters EX (@PokemonMasters) November 26, 2020
A highly anticipated sync pair will be making their debut soon!

Information will be revealed on 12/20, so stay tuned!#PokemonMasters pic.twitter.com/krxJeOTJTw

— Pokémon Masters EX (@PokemonMasters) November 26, 2020
Leave a Reply