Pokemon Omega Ruby/Alpha Sapphire manga out in English starting next week, Pokemon Pocket Comics Box Set in October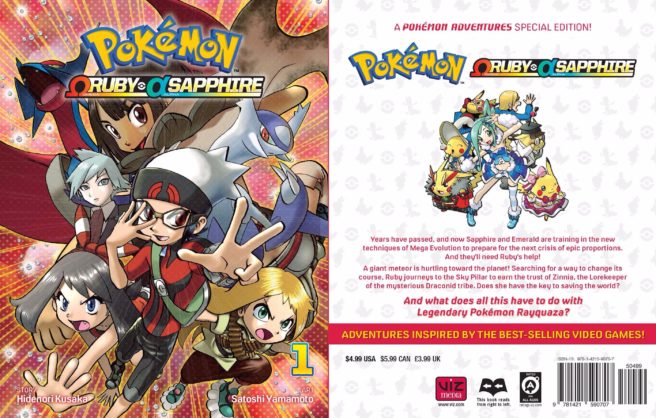 VIZ Media is localizing the official Pokemon Omega Ruby/Alpha Sapphire manga, which comes from author Hidenori Kusaka and artist Satoshi Yamamoto.
Here's an overview:
"Adventures inspired by the best-selling video games!

Picking up where their saga left off, Sapphire and Emerald train in the new techniques of Mega Evolution to prepare for the next crisis of epic proportions. And they'll need Ruby's help too!

A giant meteor is hurtling towards the planet! Searching for a way to change its course, Ruby journeys to Sky Pillar to earn the trust of Zinnia, the True Lorekeeper of the mysterious Draconid tribe. Does Zinnia have the key to saving the world?

And what does all this have to do with Legendary Pokémon Rayquazza?"
The first volume of the Pokemon Omega Ruby/Alpha Sapphire manga releases on September 6. You can pre-order it on Amazon here, along with the next two volumes.
Along with the manga, VIZ Media is preparing a gift set containing both volumes of Santa Harukaze's Pokemon Pocket Comics for October. This includes one based on the Pokemon Back/White characters and another featuring Legendaries. The two also have four-panel comics and come with trivia questions, quizzes, and puzzles. Reserve it on Amazon here.
Leave a Reply