Pokemon Scarlet and Violet EXP farm trick discovered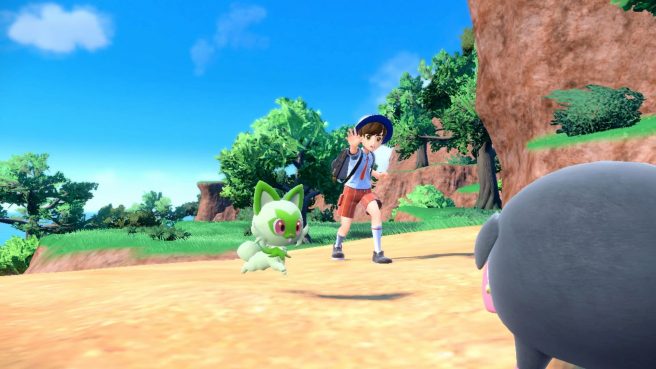 A new method has been discovered that lets players easily and passively farm EXP in Pokemon Scarlet and Pokemon Violet.
The games already have one feature, known as "Let's Go", in which a Pokemon can walk alongside you while exploring the Paldea region outdoors. This creature can then be sent off to fight other Pokemon with Auto Battles. With Auto Battles, experience can be earned without players having to designate orders. However, the new technique players have found takes this to another level for an arguably better EXP farm in Pokemon Scarlet and Violet.
First, make sure you've unlocked the final form of Koraidon or Miraidon (depending on which version you have). Once you've done this, head on over to the isolated puddle in North Province (Area Two). Golducks, Dratini, and Vaporeons should be around the area. Go into the pit and send out a Pokemon that has an advantage over Water-type Pokemon. Next use Koraidon or Miraidon to jump safely onto the top of the pit. The Pokemon you've chosen will then stay in the area and take on everything that spawns in its path – and there's not much you'll have to do.
You can get a closer look at EXP farm trick for Pokemon Scarlet and Pokemon Violet in the video below. TikTok user NerdyNinetales was the one to share the discovery.
Will you be using this trick during your playthrough? Let us know in the comments below.
Pokemon Scarlet and Pokemon Violet are now available on Switch. You can access the official website here for more information.
Leave a Reply