Pokemon X/Y disables 3D effect on the overworld
This is something that has apparently been known for the past month or so, but I haven't seen it mentioned often.
Those who have played Pokemon X/Y say that the game lacks 3D functionality in certain areas. Specifically, the effect is disabled while moving across the overworld. This is backed up by a recent Nintendo commercial, which contains the following message: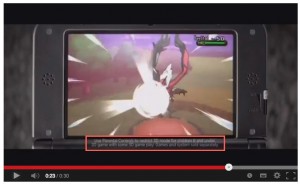 So there you have it. Some people will care that the 3D is disabled on the overworld. Others won't care at all!
Leave a Reply