PowerWash Simulator out on Switch this month, new trailer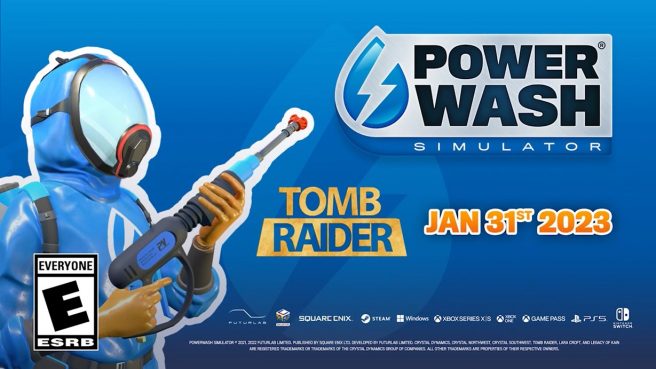 Square Enix Collective and FuturLab today set a release date for the Switch version of PowerWash Simulator. It'll be available on January 31, 2023, the two sides confirmed.
PowerWash Simulator has also revealed a free Tomb Raider Special Pack, which arrives on the same day. It includes an all-new mini campaign, with a short story and five new levels.
Regarding the announcement, lead designer Dan Chequer said: "Creating the Tomb Raider Special Pack has been an honor and a fantastic experience. We can't wait for players to get up close and personal with Croft Manor and explore its many secrets!"
Dallas Dickinson, franchise general manager for Tomb Radier at Crystal Dynamics, added: "What Tomb Raider fan hasn't explored Croft Manor and thought 'Winston could really use some help with these grounds! I would love to power wash this place!'? Now, with the help of Square Enix Collective and FuturLab that's not only possible, but immensely satisfying as well."
Phil Elliott, studio head at Square Enix Collective, also said: "We know the community wants more to clean, and I'm delighted we're able to kick off our post-release plans in style with this Tomb Raider collaboration. We've had so much great support from players, press and content creators, and we wanted to do something special to say thank you!"
A trailer announcing the Tomb Raider Special Pack and release date for PowerWash Simulator on Switch can be found below.
Leave a Reply