Puzzle Bobble Everybubble to add new Space Invaders-themed game mode
Posted on January 13, 2023 by Nicolas in News, Switch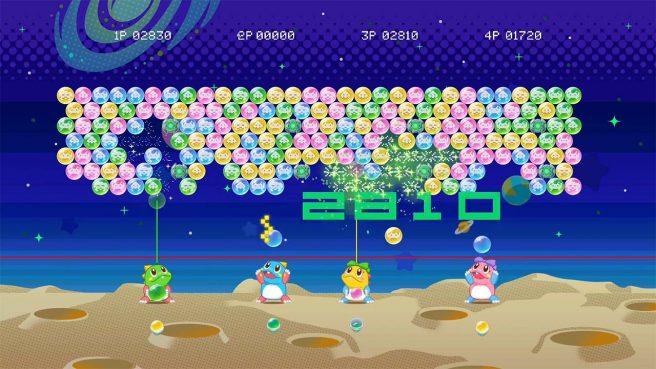 Taito has announced that Puzzle Bobble Everybubble, their newest entry in the tile-matching puzzle series, will feature a new gameplay mode themed around the arcade classic Space Invaders. The mode, also featuring 4-player co-op, will see players launching bubbles upwards to erase invaders while avoiding their attacks.
Here is a brief overview of the new mode from the game's official website:
To celebrate Space Invaders' 45th anniversary, we're announcing a new game featuring a collaboration between Space Invaders and Puzzle Bobble.

In this mode, players try to erase the bubble-encapsulated invaders by sticking three or more bubbles of the same color together.

Bubbles can only be fired straight up, so players move their characters left and right to aim and defeat the incoming invaders while dodging their attacks.

Up to four players can play cooperatively.
Puzzle Bobble Everybubble is set to release on Switch in Spring 2023.
Leave a Reply