Quantum: Recharged announced for Switch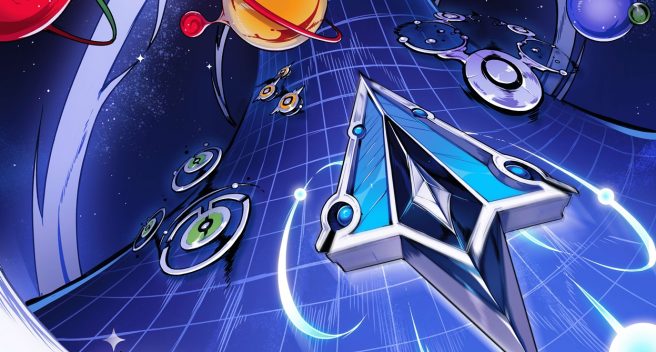 Original (6/26): Atari is planning yet another addition to its "Recharged" series, and today unveiled Quantum: Recharged in partnership with Sneakybox. The game heads to Switch later in 2023.
Quantum: Recharged reimagines the classic forty years since its arcade debut with modern flourishes. The game itself has players navigating waves of enemies with only a nimble ship and a trove of unique power-ups.
Here's some additional information:
In Quantum: Recharged, players must defeat waves of enemies by encircling and entrapping groups of foes with their ship to create punishing dead zones that destroy them. With no on-board guns, lasers or missiles to shoot enemies down, Quantum: Recharged challenges players to avoid taking damage and progress through increasingly difficult levels by mastering their ship's maneuverability.

A fusion of frenetic gameplay and quick-thinking problem-solving, Quantum: Recharged is a visual cosmic wonder complemented by an energetic original soundtrack from award-winning composer Megan McDuffie, featuring soaring melodies and infectious beats.

Key Features

What's Old is New: Use modernized movesets and powerups to avoid deadly laser attacks from Quarks and stalking Neutrons as you streak across the high-flying battlefield.
Mode Madness: Two modes of gameplay — Challenge Mode and Arcade Mode — encourage you to either duke it out across 25 unique levels or just survive as long as you can against progressively dangerous waves of enemies.
Power-Ups: Even the odds with randomly spawning perks like unlimited dodges, enemy freezing abilities, and extra life nodes. One powerup might turn the tide of battle, but multiple will pack a serious punch!
Co-Op and Leaderboards: Cover more ground with a friend across all modes of play to strategically clear out enemies in tandem and compete in global leaderboards in both Arcade and Challenge modes.
Quantum: Recharged will have its first demo and trailer at the Brazilian Independent Games (BIG) Festival in São Paulo, between June 28 and July 2.
Source: Atari PR
---
Update (6/30): The first trailer is now available, which we have below.
Leave a Reply