R & P Studios planning Adventure Thru 8-Bit Land for the Wii U eShop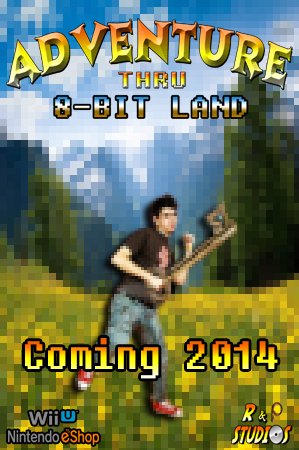 R & P Studio has announced "Adventure Thru 8-Bit Land" for the Wii U eShop. A release is planned for later in 2014.
The Wii U-exclusive side-scroller supports off-TV play as well as the Pro Controller. Additionally, the studio has passed along the following information about its project:
The game starts off in 16-Bit World, with an 8-Bit ambassador wanting the Bit War to end. Paul, the guardian of Princess Hannah, notices that the ambassador looks familiar, and he's revealed to be the evil wizard. The wizard proceeds to kidnap the Princess and also takes Paul back with him. Paul has to Adventure Thru 8-Bit Land to find and save Princess Hannah, vanquish the evil Wizard and end the war on graphics, before all games are gone for good. There's more to the story line on the website I made for the game.

The gameplay is really simple: It's a side-scroller. Not much more needs to be said, but there will be many homages to the various Nintendo Franchises, Kingdom Hearts and other famous 8-Bit genres, in terms to the story and some gameplay elements. All I have to show of the game as of this e-mail is the logo and a website, which will hold all future updates for the game.
Leave a Reply