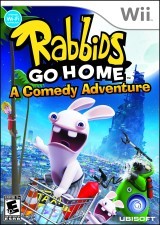 Game Info:
Genre: Action/Adventure
Available: Now
Video: 16:9/480p
Audio: Dolby Pro Logic II
Players 1-2
Nintendo Wi-Fi: Yes (No Gameplay)
ESRB: Everyone 10+
In Ubisoft Montpellier's comedy adventure the Rabbids find themselves homeward bound; in which case their destination is the moon. You take control of a few rabbids as you push a shopping cart around various environments collecting as many items as possible so that the rabbids can build a big enough junk pile to make their way home.

Likes
Originality:  A definite  strong point for Rabbids Go Home is its originality. From the game's presentation and introduction (especially the "hardware check") to its story, art style and music; Rabbids offers players something very unique.
Controls:  Movement of the your rabbid and his cart feel very smooth, responsive and definitely an area of the title that feels polished.
Sound:  The in-game music is an eclectic mix of licensed tunes spanning different genres from a few years back. Players will might hear John Denver's Country Road at one point and then later within the same level hear Harry Belafonte's Kingston Town. Obviously not the typical music selection or score one might expect for an adventure title aimed at an audience of 10+, but it's certainly a refreshing change for a game of this genre.
Humor:  Rabbids calls itself a "Comedy Adventure", and it's a title which takes itself seriously. The game's comedy is a mix of satire, cynicism, slap stick and potty humor (both literally and figuratively speaking). Most of the comedy is used to take jabs at stereotypical American life and culture; as are all the games environments. For example, the airport levels make fun of the massive fear driven nature of their security protocols while stores and shopping malls  point out the obsessive and materialistic nature of its consumers.
The NPCs in the title are also used as cartoon representations of stereotypical Americans. You'll encounter religious zealots, greedy corporate tycoons and everyone in between. It's as if the French made a game for and about stupid Americans in order to insult them on every level possible, and then localized it for the majority of other countries so they too could also join in the laughter at America…Oh wait, they did.
Though this game is a humorous jab against everything that makes American life and it's culture not so great, it still manages to do so with honesty about the different topics that it addresses and offers such a wide array of humor that everyone can find something to laugh at, even if it's at their own expense.

Dislikes
Repetition:  This game is ripe with it. Gameplay, cut-scenes, level design and even its comedy all suffer from a severe case of Groundhog Day syndrome.
Visuals:  While the game has a very unique art style it also looks as though it was designed for the GameCube, and it in no way pushes the boundaries of what the Wii is graphically capable of. In addition to its lackluster looks Rabbids suffers from serious screen tearing issues during cut-scenes and gameplay. Lastly, the game also has some clipping problems during some of the sequences of the game where the camera is head-on with the rabbids.

Developers Notes
Free The Rabbids!:  Rabbids could've benefited heavily by not keeping the players tethered to the shopping kart the whole game. By giving players the ability leave their kart when and where they wanted it could lend the game the opportunity to add some fun exploration and platforming elements to the gameplay. I could even see more hilarity ensuing as the the rabbids could attack and terrorize the humans in more hilarious and entertaining ways.
In short, Rabbids Go Home is a mildly satisfying action/adventure monotony dressed in comedy. After playing through the first two levels of the title you'll find everything that initially seemed appealing about it is then stretched out over the remainder of the game. It's this fatal flaw of the games design that keeps it from being a game that might otherwise have earned a solid "Worth Playing" recommendation.
Also, if you're a parent looking to pick this title up for children then take heed. The game's ESRB of Everyone 10+ is bit misleading as a good amount of the games humor is more appropriately suited for a "T" for Teen crowd.

The Verdict: Worth Playing/Not Worth It
About the Author: Jason Tanner is life-long video game enthusiast and a new contributor here at Nintendo Everything. He also writes for his own Wii game review site at: Wiivolution Now.
Leave a Reply