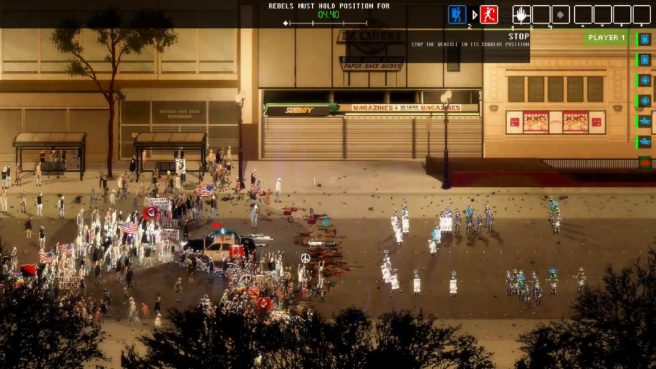 Riot: Civil Unrest will be released on Switch, a listing on GameFly reveals. The retailer has it down for June 19, though that date is not confirmed.
Riot: Civil Unrest was funded way back in 2014 via Indiegogo with development ongoing since then. Director Leonard Menchiari has experienced riots first-hand following economical crisis, and wanted to share what he went through in the form of a game. You'll be able to play as either the police or the rioters as you partake "in some of the world's most fractious disputes."
Here's some information from the game's Steam Early Access version as well as a trailer:
As the world's economical crisis deepens and inequality tears the very fabric of society the discontentment of the masses manifests itself in violent public disturbances and civil disorder.

Riot – Civil Unrest is the highly anticipated real-time riot simulator that places the player right in the heart of some of the world's most fractious clashes. Campaigns include: Indignados (Spain), Arab Spring (Egypt), Keratea (Greece) and NoTAV (Italy). Seventeen single level scenarios include Rome, Oakland, Paris, London and Ukraine.

Riot – Civil Unrest's creator, Leonard Menchiari, experienced rioting first-hand at the NoTAV protests in Italy. He created the game to tell the stories and express the feelings experienced during these clashes. What triggers the crowd to behave with such anger and aggression? Often outnumbered, what does a police officer feel like during the conflict? Riot – Civil Unrest presents the player with the opportunity to experience both sides of the fight – a fight in which there really are no winners. Who is right and who is wrong? Experience Riot – Civil Unrest and draw your own conclusions.

Play as the Police

Employ numerous crowd-control tactics, both passive and aggressive.
Command Assault, Tactical, and Ballistic squads.
Call in police trucks, water cannon or even a tank!
Choose whether to use smoke grenades, rubber and plastic bullets or even live ammunition.

Play as the Rioters

Instruct Rioters (armed and passive) and Journalists.
Incite rage and cause the masses to act aggressively or try to calm the situation with tactical crowd reformation and retreats.
Attack authority with Molotov cocktails, fireworks, paper-bombs, rocks, street furniture and the power of the media.

Multiple Modes

Sixteen campaign levels split over four scenarios; Keratea (Greece), NoTAV (Italy), Indignados (Spain) and Arab Spring (Egypt).
See the story unfold from both sides – play all thirty-two levels as the Rioters or the Police.
Single player mode – play against the computer AI.
Versus mode – play with or against a friend or AI on the same computer.

Create your own Riots with the level editor (Coming During Early Access)

Alter the look of the confrontation by importing your own background graphics.
Position elements, vehicles and obstacles where you want them.
Choose and position rioters and police starting points as well as their orders and level of aggression.
Leave a Reply