Risk of Rain 2 – Skills 2.0 update arrives for Switch on December 10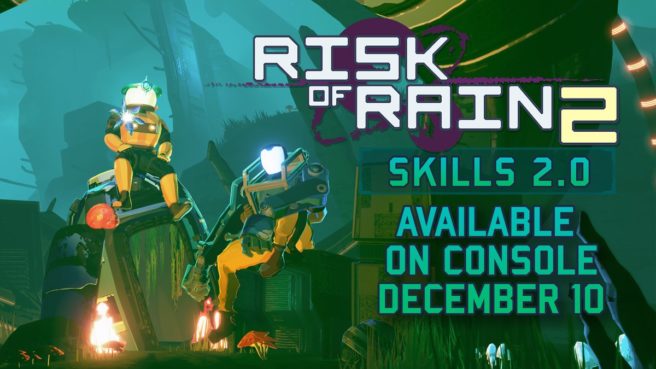 A big update will be appearing in the Switch version of Risk of Rain 2 next week, developer Hopoo Games and publisher Gearbox have announced. Skills 2.0, which features a "Loader" system, new content, and more, is slated for December 10.
Here's a bunch of information about the update:
The Skills 2.0 Update brings a new depth to gameplay alongside the return of Risk of Rain favorite, Loader.

Players can also complete survivor-specific challenges that will unlock new skills or skins for that respective character.

Skills 2.0 introduces a new way to play your favorite survivor! The new "Loadout" system allows for swappable skills and skins at the beginning of each run.

New Survivor – Unlock the next survivor Loader, a high damage close combatant with a grappling hook to uniquely navigate the environment.

New Stage, Bosses, and Monster – Dive into the mossy depths of Siren's Call, fight off new monsters such as the Alloy Vulture and Solus Probe, and challenge its bosses, the Solus Control Unit and/or the Alloy Worship Unit.

New Items and Equipment- An arsenal of new items and equipment is now at players' disposal. This includes three new items (Focus Crystal, Lepton Daisy, Shattering Justice); two new equipments (Blast Shower, Volcanic Egg); and a new Lunar Item called Strides of Heresy.

Community Suggested Changes – Quality-of-life improvements suggested by the community have been implemented. This includes the Luna Seers, which allow players to, at a price, determine the next upcoming stage.
And a trailer:
Leave a Reply